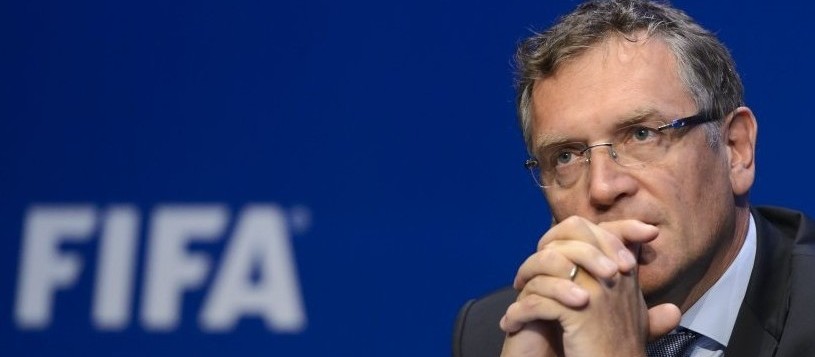 The world football's governing body FIFA has announced that its secretary general Jerome Valcke had been given the sack with immediate effect. On September 17th, 2015 the 55-year-old Valcke was banned from football activities due to allegations he had got involved in a fraud scheme in order to draw profit from World Cup tickets' sale.
This was not the only accusation against Valcke. The ex secretary general has also been alleged in also taking part in a potential £6.8-million bribe paid to the former chief of CONCACAF Jack Warner in return to his vote and overall support to the successful bid of South Africa to host the World Cup in 2010.
According to the official FIFA statement, Jerome Valcke was dismissed from the position of the organisation's secretary general by the international football association's emergency committee. As explained in the statement, the employment relationship between the organisation and Valcke has also been terminated.
The former secretary general was released from his duties in September 2015, after spending almost ten years at the position. He was accused in a series of breaches of FIFA ethics code, but denied any wrongdoing. Then, on January 7th, the ethics committee of FIFA announced that a decision of opening "formal adjudicatory proceedings" had been made after studying a report that the investigatory arm of the organisation had been submitted.
According to the official FIFA statement published on the organisation's website, the secretary general's duties would be assumed by the acting secretary general Dr Markus Kattner.
Imposing ban from all football-related activities for a period of nine years to Valcke had already been recommended by FIFA ethics committee. A fine of 100,000 Swiss francs was also recommended by the international football's organisation ethics body.
The former secretary general is not the first executive member of the international football organisation to be suffering a punishment. Both FIFA president Sepp Blatter and UEFA chief Michel Platini got an eight-year ban in December 2015 after an investigation conducted by the ethics chamber of FIFA.
This has become the second time when Jerome Valcke has been sacked by the International Federation of Football Association. The first time he joined the organisation as director of marketing and TV was in 2003. Then, three years later, he was dismissed after a scandal related to Mastercard that have been the organisation's long-time sponsorship partner. Valcke was then found guilty in having negotiated with Visa in violation of Mastercard's right of first negotiation.
Now, Valcke denies both the World Cup ticketing scandal and bribery claims, in which he is currently involved.
(Visited 94 times, 1 visits today)