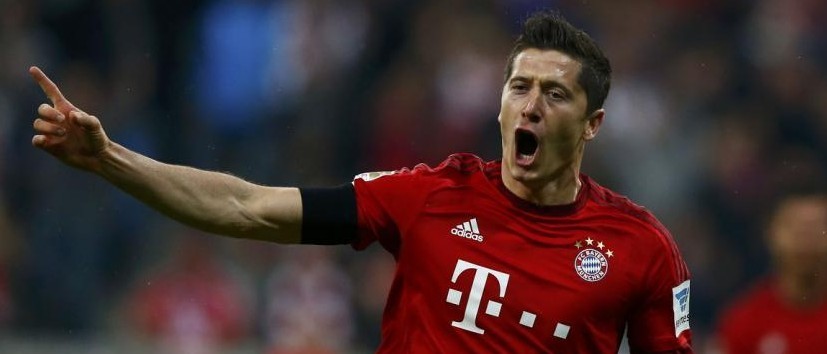 The agent of Poland international Robert Lewandowski has denied the rumours that the 27-year-old forward was approached by Real Madrid, calling them "speculation". These rumours have been roaming in media lately, insisting that Lewandowski has become a transfer target of the Spanish grand.
The upcoming exit of Bayern Munich's head coach Pep Guardiola for Premier League Manchester City at the end of the current campaign has provoked some questions over the future of the striker in the German team. Lewandowski has netted a total of 19 goals in 19 Bundesliga appearances in the season so far.
There have been some reports in international sports media that have linked the striker with a possible transfer to Real Madrid. The player's agent Cezary Kucharski picked up the Polish Player of the Year award on behalf of Lewandowski and said there "is something" to the speculations.
However, he has later denied there rumours and distanced himself from the media reports of the eventual move of the player to Spain. He said that Real Madrid have not made any contract with his client and turned down the information that there have been negotiations over an eventual transfer of Lewandowski to Spain.
Kucharski said that negotiations over such a transfer are nothing but speculation and described all reports as simply rumours. He praised his client, saying that these media reports only prove the qualities of Lewandowski and explained that the Polish international is not famous in Germany and Poland only, but also all over Europe.
According to Rober Lewandowski's agent, the player is currently based at a team that suits him and there is no need for him to change anything. In addition, the striker's representative confirmed that contract talks between the forward and his German side have already begun. He, however, denied to reveal more details, because the information is confidential at this stage.
On the other hand, the Germany-based agent of Lewandowski – Maik Barthel – also said that the striker has no intentions of leaving Bayern Munich up to date. He confirmed that the player feels well at the German grand and reassured his fans that the team are also happy with his client's performances. According to Barthel, Lewandowski has been a world-class player over the past two years, and he could look forward to renewing his contract with Bayern Munich.
(Visited 122 times, 1 visits today)