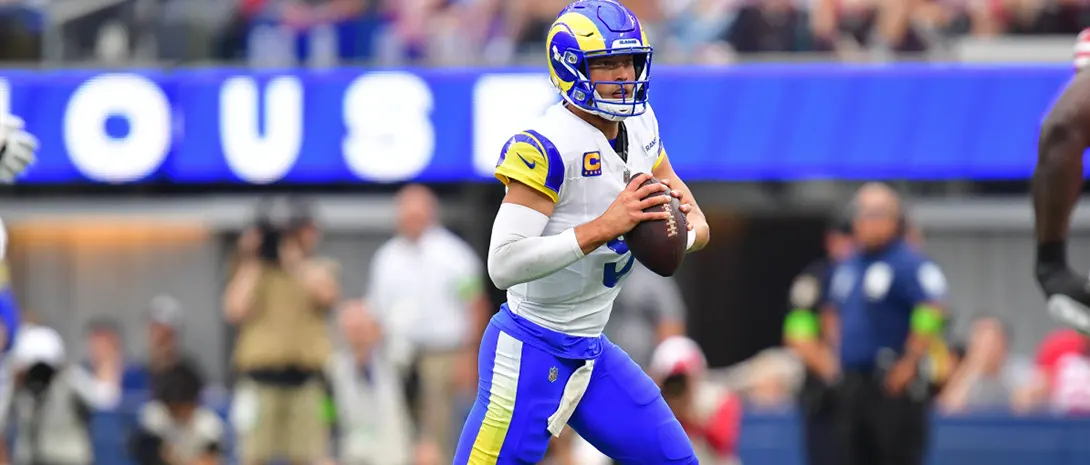 Key Takeaways:
Matthew Stafford, the Rams' veteran quarterback, faces unique challenges connecting with younger teammates.
Stafford's wife, Kelly, highlighted the changing dynamics in the NFL locker room, with younger players more engrossed in technology.
Stafford's approach to building camaraderie includes making an effort to know his teammates personally.
Navigating the Generation Gap
Matthew Stafford, the experienced quarterback for the Los Angeles Rams, finds himself in an interesting predicament as he enters his 15th year in the NFL. While he's not considered old by any means, the dynamic in the league has evolved significantly since his debut.
Stafford acknowledges that there's a noticeable generation gap between him and some of his younger Rams teammates. This gap extends beyond football and into cultural differences, from language and style to the latest trends. Stafford's wife, Kelly, shed light on this situation during her podcast "The Morning After" in August.
"Matthew Stafford with the uh-uh!"

📺 @NFLonFOX pic.twitter.com/XoiMJdvKb3

— Los Angeles Rams (@RamsNFL) September 17, 2023
According to Kelly, Stafford shared his observations about the evolving locker room dynamics with her. In the past, players would interact after practice, engage in card games, or participate in various activities together. There was a sense of camaraderie built through these interactions. However, things have changed. Stafford noticed that after practices and meetings during training camp, many of the younger players would immediately immerse themselves in their phones, rarely looking up to engage in conversation or activities.
Stafford expressed his desire to connect with his teammates, not as a coach or authority figure but as a fellow player. He mentioned the challenge of breaking the formalities, where younger players would address him as "Sir" and similar titles. Stafford wanted to establish a more relaxed and personal rapport with them, fostering chemistry on the field.
As part of his efforts to bridge this gap, Stafford went the extra mile. He had a book created with photos and names of all his teammates, an initiative to help him get to know them better. The intention was to use their names and engage in conversations that went beyond football, showing a genuine interest in their lives.
A Smooth Transition for Stafford
Despite the initial challenges, Matthew Stafford and his Rams teammates found common ground. Stafford, who had initially expressed concerns about the generation gap, later clarified that the situation wasn't as serious as it may have seemed. He mentioned that the Rams players understand his commitment and work ethic, observing his daily presence and interactions in the facility.
matthew stafford is playing the bengals again pic.twitter.com/oGRbcSBArj

— Tej Seth (@tejfbanalytics) September 25, 2023
Stafford and his teammates have moved forward, focusing on their shared goals. His ability to adapt and build connections is evident in his growing chemistry with wide receiver Puka Nacua, who has become a key player for the Rams, particularly in the absence of Cooper Kupp.
As the Rams navigate the 2023 season, Stafford's willingness to embrace change and connect with his teammates remains pivotal. The team's success may hinge on their ability to cultivate strong bonds on and off the field, transcending generational differences.
(Visited 11 times, 1 visits today)