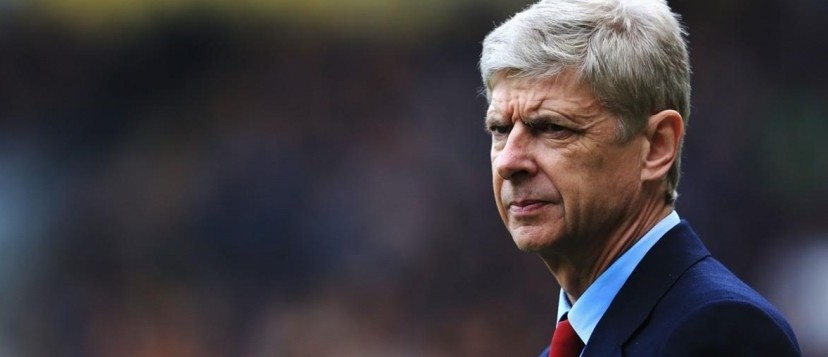 Arsenal's boss Arsene Wenger has announced that his side's focus lays on winning the Premier League title that is still "far from over" for them to fight for. Wenger has also turned down the rumours that he has been currently put under more pressure in comparison to any other time over his 20-year spell at Arsenal.
Arsenal are eight points behind the current leaders of the Premier League table Leicester City and only three points adrift of the team of Tottenham Hotspur that is on second place up to date. Their match against Tottenham Hotspur on March 5th ended with a 2-2 draw.
However, against all odds, Arsene Wenger does not seem ready to give up on the hopes to win the Premier League title with the club he has been reigning over for twenty years. He officially announced at a press conference that the fight for the title has not been closed and no one should think that it is over with the dreams of Arsenal of climbing to the first place at the Premier League table.
Wenger explained that the championship is still far from being over, so he he had no intentions of giving up and said his side would fight until the very end. The team is to face Hull City in the club's FA Cup replay that is to take place on March 8th. Arsene Wenger's side's place at the competition's quarter-finals would be put on stake, but the manager himself explained that his men would make whatever it takes to qualify.
In case that the team of Arsenal win, the club's Premier League match against West Bromwich Albion that is scheduled for March 12th would be postponed. If the game is cancelled, however, Arsenal would find themselves 11 points behind Leicester City before their next Premier League game.
This is exactly why Arsenal's boss is desperately trying to put an end to the Premier League title drought for his club that has been continuing for 12 years. Unfortunately for the manager, the disappointing results of the club recently have resulted in Arsene Wenger, who has spent twenty years on top of the squad and is now the longest-serving football manager in Europe after Ronnie McFall, face a lot of criticism.
Wenger, however, denied the fact that the pressure on him has increased lately, saying that the pressure has not changed at all, and the real one comes from his own desire to win the next match and improve the performances of his side. He also shared his pride for being on top of Arsenal for so long and said he was really privileged to have the confidence of the club for such a long time.
(Visited 135 times, 1 visits today)