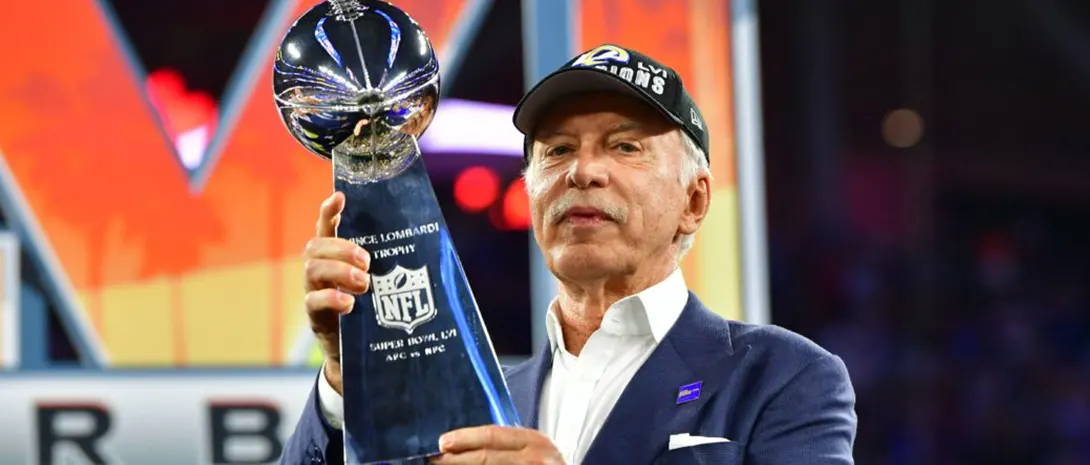 Key Takeaways:
Arsenal owner Stan Kroenke has seen a significant boost in his sports team values.
His NFL team, the Los Angeles Rams, is now the fifth most valuable sports team globally, with a worth of $6.9 billion.
Kroenke's financial success extends to other teams, including the Colorado Avalanche and Denver Nuggets.
His overall sports empire has made him the second richest individual in sports, valued at $14.4 billion.
Forbes' rankings highlight the financial strength of the NFL, with many of the top 50 most valuable teams coming from the American football league.
Stan Kroenke's Arsenal Resurgence and Sports Empire
Arsenal fans have witnessed their club's resurgence under the ownership of Stan Kroenke. With a rejuvenated squad, manager Mikel Arteta, and substantial investments, the Gunners are once again competing at the highest level in the Premier League. However, it's not just Arsenal that's thriving under Kroenke's stewardship.
Stan Kroenke has a new priority after $249m Arsenal transfer spend🚨https://t.co/XstWt6xCpn

— Arsenal FC News (@ArsenalFC_fl) September 9, 2023
The Los Angeles Rams – A Remarkable Turnaround
Stan Kroenke's Los Angeles Rams have achieved something remarkable. Forbes ranks them as the fifth most valuable sports team globally, with a staggering worth of $6.9 billion. Kroenke acquired the Rams in 2010 for $750 million and controversially relocated the team from St. Louis back to LA. This move, in terms of finances, proved to be a masterstroke. The Rams clinched the Super Bowl title in 2021, a change in fortunes that Arsenal fans can only hope to see mirrored in their club.
HOW BOUT THEM RAMS! pic.twitter.com/BCjKwOO10B

— Los Angeles Rams (@RamsNFL) September 10, 2023
More Success Across Different Sports
Kroenke's influence extends to other sports franchises. The Colorado Avalanche, under his ownership, secured the NHL's Stanley Cup in 2022 after a 21-year championship drought. Additionally, the NBA's Denver Nuggets celebrated their first-ever championship victory this year.
This is nice. This is really nice. #GoAvsGo pic.twitter.com/UL10n9V7fp

— Colorado Avalanche (@Avalanche) September 8, 2023
Astonishing Valuation Growth
The valuation of the Rams is even more astonishing when considering Kroenke's initial purchase price of $750 million, reflecting a remarkable 116% increase in the last five years.
Kroenke's Position in the Sports World
Stan Kroenke's financial success in the world of sports is evident in his current ranking as the second richest individual in the field, with a valuation of $14.4 billion. He trails only Jerry Jones of the Dallas Cowboys, who is valued at $14.5 billion. This places Kroenke as the 120th richest person globally.
Who Owns the Most Land in 🇺🇸United States?

1. Emmerson Family → 2.33 Million Acres
2. John Malone → 2.2 M
3. Reed Family → 2.1 M
4. Ted Turner → 2.0 M
5. Stan Kroenke → 1.63 M
6. Irving Family → 1.27 M
7. Buck Family → 1.24 M
8. Brad Kelley → 1.14 M

— The World Ranking (@worldranking_) September 11, 2023
NFL Dominance in Forbes' Rankings
Forbes' rankings underscore the financial might of the NFL, with 30 out of the top 50 most valuable sports teams originating from the 32-team American football league.
Global Ranking of Most Valuable Sports Teams:
Dallas Cowboys – $9 billion
New York Yankees – $7.1 billion
Golden State Warriors – $7 billion
New England Patriots – $7 billion
Los Angeles Rams – $6.9 billion
New York Giants – $6.8 billion
Chicago Bears – $6.3 billion
Las Vegas Raiders – $6.2 billion
New York Knicks – $6.1 billion
New York Jets – $6.1 billion
Real Madrid – $6.07 billion
Washington Commanders – $6.05 billion
Manchester United – $6 billion
San Francisco 49ers – $6 billion
Los Angeles Lakers – $5.9 billion
Philadelphia Eagles – $5.8 billion
Miami Dolphins – $5.7 billion
Barcelona – $5.508 billion
Houston Texans – $5.5 billion
Liverpool – $5.228 billion
(Visited 15 times, 1 visits today)