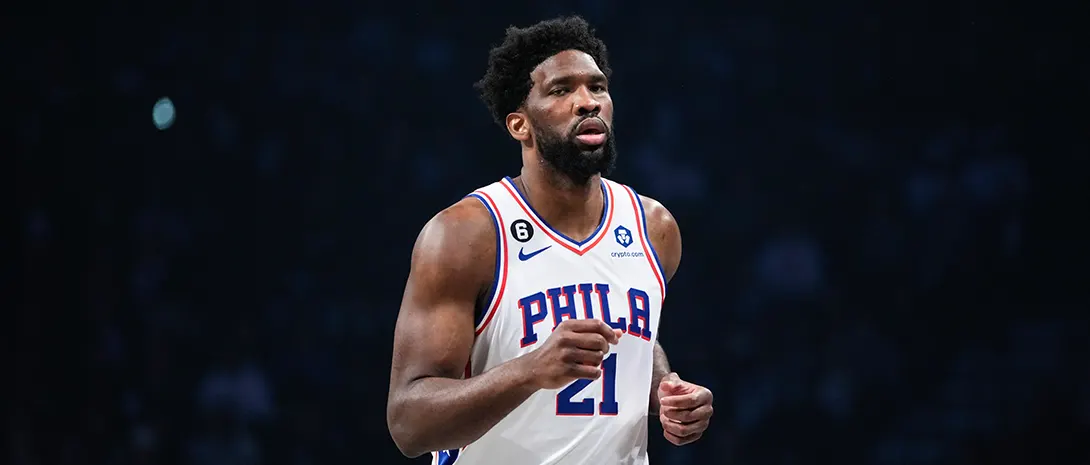 Key Takeaways:
Team USA faced disappointment in the FIBA World Cup, highlighting issues with defense and size.
Joel Embiid is proposed as a potential solution to these problems.
International competition has evolved, making it more challenging to win.
Hill, USA Basketball managing director, expressed the desire to have Embiid join the team.
Embiid's interest in international play is hampered by health concerns and the choice of which nation to represent.
After Team USA's recent FIBA World Cup loss to Canada, it's become clear that addressing their defensive and size-related issues is a priority. Joel Embiid, the reigning NBA MVP, could be the solution they need.
Team USA failed to medal at the FIBA World Cup 👀 pic.twitter.com/1Xt9ncsIyb

— ESPN (@espn) September 10, 2023
When Grant Hill, the managing director of USA Basketball, returns to the United States, planning a trip to Philadelphia should be high on his agenda. Similarly, when the Philadelphia 76ers visit the Bay Area in January, Steve Kerr, the head coach, should be prepared to engage in discussions. Over the next year, the focus for Team USA's decision-makers should revolve around a single objective: acquiring Joel Embiid.
GERMANY ARE THE WORLD CHAMPIONS 🇩🇪🏆#FIBAWC pic.twitter.com/AV4R3nPYl4

— FIBA Basketball World Cup 2023 🏆 (@FIBAWC) September 10, 2023
Challenges in International Basketball
The disappointment of losing the bronze medal game to Canada was significant but not embarrassing. Canada, far from just a hockey-loving neighbor, is emerging as a basketball powerhouse. Players like Shai Gilgeous-Alexander, Dillon Brooks, and RJ Barrett exemplify this transformation. And Canada isn't alone in its progress. Slovenia, led by Luka Dončić, and Germany, the recent FIBA World Cup champion, present formidable opposition. Serbia, the runner-up, boasts players like Bogdan Bogdanović and Nikola Jović, along with a roster filled with three-point shooters.
Why Team USA Needs Embiid
While Team USA may field a stronger team in 2024, players from the United States often prioritize Olympic gold over FIBA success. However, the competition is getting tougher for everyone, including Team USA. Even with the potential inclusion of stars like Nikola Jokić, Giannis Antetokounmpo, and Kristaps Porziņģis in their respective national teams, Team USA still requires additional support.
The primary issues for Team USA lie in defense and size. These challenges were evident as the team conceded high point totals in recent matches and struggled with their size disadvantage.
Germany beats Team USA 113-111 to advance to the FIBA World Cup Final 🤯 pic.twitter.com/Iq2LZYSFCt

— Bleacher Report (@BleacherReport) September 8, 2023
Joel Embiid's Role
Grant Hill acknowledges these issues and recognizes that Joel Embiid is a valuable asset for USA Basketball. As the reigning NBA MVP, Embiid excels as both an offensive and defensive force. His shot-blocking abilities and presence in the paint make him a vital rim protector. Moreover, his physicality allows him to compete effectively against formidable opponents like Jokić and Valančiūnas.
Joel Embiid Top 10 Plays of Career#NBA #BestDunks #BestMoments #BestOfNBA #NBASeason #NBAPlayoffs #NBAFinals #Top10Dunks #TopDunks #TopPlays #JoelEmbiid pic.twitter.com/dXWHIjZaS3

— King of NBA (@KingofNBA09) September 7, 2023
Challenges in Recruiting Embiid
While Joel Embiid has expressed interest in international play, certain obstacles must be addressed. His history of injuries, often requiring lengthy offseason recovery periods, raises concerns. Additionally, the choice of which nation to represent poses a question, as Embiid holds citizenship in both the United States and France.
The Fight for Embiid
Recruiting Joel Embiid for Team USA will not be without its challenges. Nevertheless, it is a battle that the U.S. team must win. Despite recent struggles in FIBA World Cups, Team USA has maintained its dominance in the Olympics, clinching four consecutive gold medals. However, even in Olympic competition, the gap is narrowing, as demonstrated by France's victory over the U.S. in pool play during the last cycle. To maintain their status as the world's top basketball nation, Team USA needs a game-changer.
Potential Team USA lineup for the 2024 Olympics:

Steph Curry
Kawhi Leonard
LeBron James
Kevin Durant
Joel Embiid

Good luck to the rest of the world, they're gonna need it. pic.twitter.com/gfujw4jUmk

— ClutchMcGee (@RealClutchMcGee) September 3, 2023
Joel Embiid can be that game-changer.
(Visited 16 times, 1 visits today)