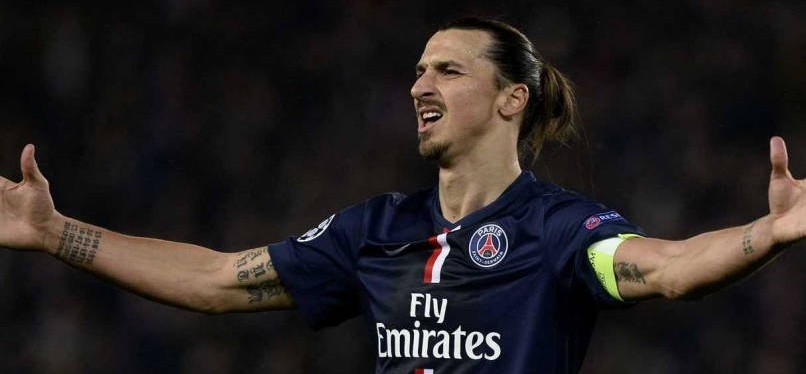 The Paris Saint-Germain star Zlatan Ibrahimovic, who has long been rumoured to be considering a move to the Premier League after the expiration date of his contract with the French No.1 team, has dismissed the speculations on this matter.
The first-class striker, who is now 34 years old, revealed that the opportunity for him to go and play in the English Championship is closed at this stage. The contract of Ibrahimovic, who is also captain of the Sweden national football team, and has won domestic titles in France, Spain, Italy and the Netherlands, is to expire at the end of the season – in the summer of 2016.
In an interview after shooting Sweden to the European Championships of 2016, the star of Paris Saint-Germain shared that he is feeling very happy in the French No.1 team. He was categorical: "I think it is too late to come to England." Still, Ibrahimovic explained that he has six months left in PSG and he does not know where his career would be finished.
The Sweden captain prolonged his stay in France by several weeks after making sure he had guaranteed his national team's place at Euro 2016 after the last play-offs.
The season's start was difficult for Ibrahimovic, who suffered an injury, but still, he managed to successfully recover and even managed to broke the Payleta's club record in early October 2015. He is described as the joint top scorer in French Ligue 1, as he has nine goals in a total of eight matches he has taken part in within the national league.
Euro 2016 is the last Championship where the striker is expected to take part in. Although he will most probably retire afterwards, he is considered to be aimed at a special international farewell. Ibrahimovic himself shared that he is eager to play in Euro 2016 and described the experience as "magic". He also explained this would probably be his last tournament while playing with his national team's outfit, and said how excited he was for the results in the last two play-offs.
As mentioned above, there had been many speculations about the fate of Ibrahimovic after his retirement. Last month, a French media made a suggestion that the striker would consider to sign with Manchester United, but after the interviews with him such a transfer appears unlikely. There were also rumours that more than 30 clubs were chasing a contract with him.
(Visited 53 times, 1 visits today)