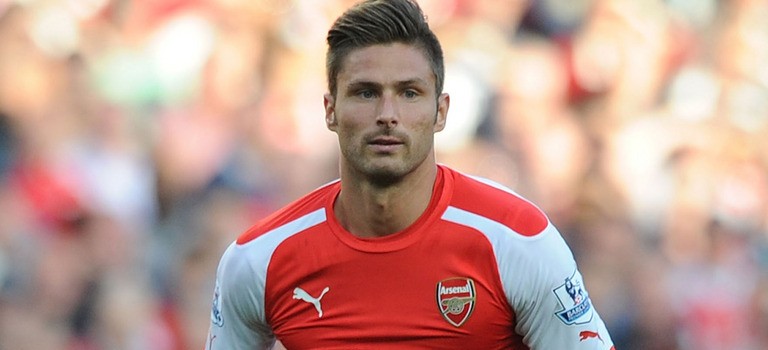 Olivier Giroud became the hero of the Arsenal match against Olympiakos by scoring a hat-trick and helping his team beat Greek No.1 in order to qualify for the last 16 of the Champions League. The 3-0 win of Arsenal came after the club demonstrated an excellent performance of high nerve and fantastic skills. The English club needed only a 2-goal win in order to qualify for the second place in the championship Group F.
Arsenal have never disappointed avid fans and over the last ten seasons, they always managed to make it to the knockout stages of the Champions League. During the derby against Olympiakos, Arsenal was encouraged by enthusiastic fans and provided them with the chance to enjoy attractive football in return for their support.
It was Oliver Giroud who became the star of the memorable night in Athens. The finishing touches he applied ensured his team success and helped them climb the Champions League ladder. Olivier Giroud was the fourth player who scored a hat-trick for the Gunners in the Champions League. What makes Arsenal's victory even more notable is that they have not won a match in Greece since 1998 when Wenger's men defeated Panathinaikos.
Joel Campbell's contribution to the success of the Gunners was also praiseworthy. The former Olympiakos player held off three defenders and took out another two. His pass to Giroud secured the 2-0 result.
Campbell's strength and vision to slide in Giroud were highly appreciated and their performance on the pitch was considered the beginning of a great strike partnership. Theo Walcott also demonstrated clever runs, although he was far from his excellent form.
According to Arsenal fans, Arsene Wenger's men did well after the two defeats they experienced. The Gunners lost against Dinamo Zagreb and Olympiakos and these losses resulted in failure to register even one point in the group. In addition, Pep Guardiola's Bayern Munich also achieved a 5-1 victory against the Gunners at the beginning of November.
Currently, Arsenal is ranked second to the Bavarians, which means they will most probably face a tougher opponent during the last 16 draw. The possible opponents the Gunners are likely to play against are Zenit St Petersburg, Real Madrid, Barcelona, Atletico Madrid or Wolfsburg.
As far as their Premier League affairs are concerned, Arsene Wenger's team is to join Chelsea and Man City in the last 16 draw that is to take place the upcoming Monday in Nyon. The event will be live streamed on UEFA.com and it is scheduled to kick off at 12.00CET.
(Visited 101 times, 1 visits today)