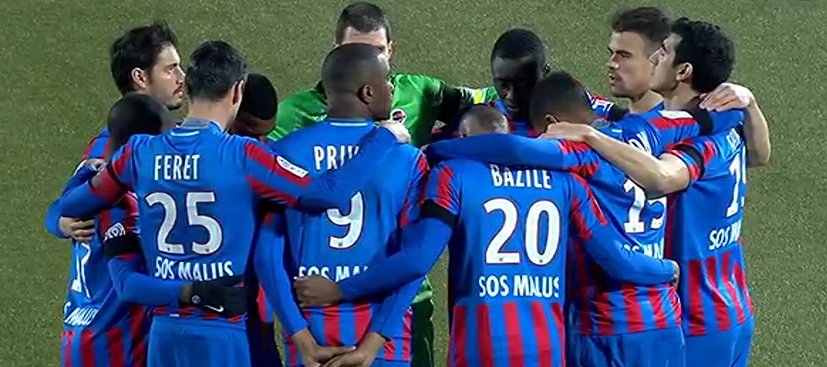 The team of Caen, which was aimed at climbing up the Ligue 1 table, missed its chance to go second after its match against Angers on Sunday afternoon.
Caen was put in an unfavourable position, because it was forced to play for more than hour with ten footballers only, after Alaeddine Yahia was sidelined after being shown a straight red card in the 32nd minute for a late challenge on Billy Ketkeophomphone. The visiting side, however, did not manage to take advantage of this fact turn the game in its favour.
Still, it was exactly the hosts who came closer to breaking the deadlock over the first half, no matter the fact they were one man short. It was exactly during the first half when Julien Feret threatened the opponent's door. Caen was enjoying the majority of the ball's possession over the opening period, with Julien Feret and Ronny Rodelin both standing out.
Angers came close to breaking the deadlock over the second half. Caen was unable to create a lot of clear-cut chances and struggled to score a goal. The travelling side pushed for a winner over the last 15 minutes, but it was not lucky enough to score a goal, either.
Regardless of its ambitions, Caen remained at the third position in the French Ligue 1 table. It also levels on 25 points with Lyon, although it could have surpassed their results in case it managed to win on Sunday. Angers is currently at rank five, but the point gap between them and their opponents this weekend is not large, as only two points separate the third and the fifth place in France's Ligue 1.
Caen was not the only one that missed a golden chance to improve its ranking. St. Etienne could also push itself up the table, but unfortunately, the team suffered a 2-0 defeat from Marseille. The latter, on the other hand, managed to pull itself four points clear of the drop zone.
This was a second consecutive defeat on St. Etienne for Marseille. The latter's scorers were Michy Batshuayi and Georges-Kevin Nkoudou, who scored either side of half-time in the match, which ended 2-0. This was also the fourth time Marseille wins in a total of five games in all competitions. The success lifts them to No.12 in the Ligue 1 table, putting them four points after AS Saint-Etienne, which currently occupies the 7th place of the table.
(Visited 115 times, 1 visits today)