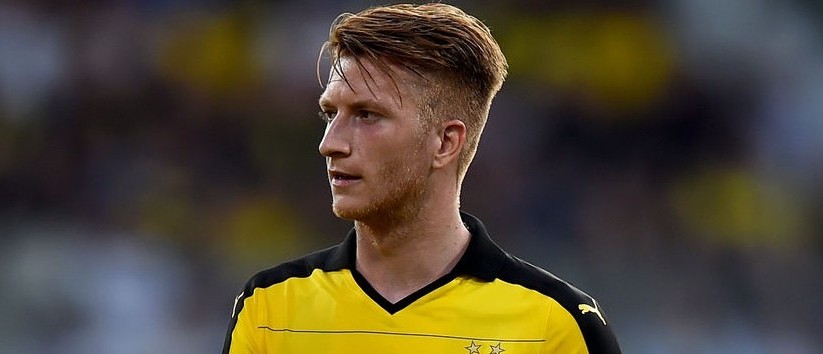 Marco Reus is set to make a return to Borussia Dortmund after dealing with an injury. The 26-year-old Reus, who is widely known for his versatility, speed and technique, is most likely to be included in the starting eleven of the Bundesliga's No.2 at Hamburg on Friday.
Reus who plays as an attacking midfielder, striker or winger for both Borussia Dortmund and the national football team of Germany tore muscle fibres in the Europa League game of BVB against Qabala on November 5th. He was sidelined, but returned to regular trainings with the team on Monday and is considered as one of the most probable options for the starting eleven.
At the pre-match news conference, Borussia Dortmund's head coach Thomas Tuchel shared Reus "trained really well" and looked "at ease", confirming the player is fit and ready to return.
Reus is expected to take the place of Gonzalo Castro at the time when the current runner-up in the Bundesliga travels to Volksparkstadion aiming at narrowing the gap on the league's No.1 Bayern Munich to two points.
The player, who up to date is believed to be one of the most versatile ones in the German No. 2 team will be one of the major weapons that are to be used by Tuchel on the way to victory. Borussia Dortmund's head coach shared he expects "an intensive game" considering the fact that its opponent is very disciplined.
Reus has scored a total of eight goals while playing with the Bundesliga No.2 club's outfit this season.
Reus' probable return is not the only news associated with the team of Borussia Dortmund. The 26-year-old Shinji Kagawa is said to be probably keeping his place in the club's starting squad regardless of the fact he has just got back from his international duty with Japan. Still, coach Tuchel expressed his utter surety that Shinji is able to cope with the tension, saying: "I'm planning with him from the beginning."
The quartet Marco Reus, Pierre-Emerick Aubameyang, Shinji Kagawa and Henrikh Mkhitayan have scored 54 of the total 71 goals in all matches of the team over the season, which makes them some of the most probable options for coach Tuchel's starting eleven.
Although Borussia Dortmund have not managed to get three points at Hamburg since 2012-2013 season, the team has actually made a stable and impressive start under the lead of Tuchel. The team has only one game lost in all competitions.
(Visited 261 times, 1 visits today)