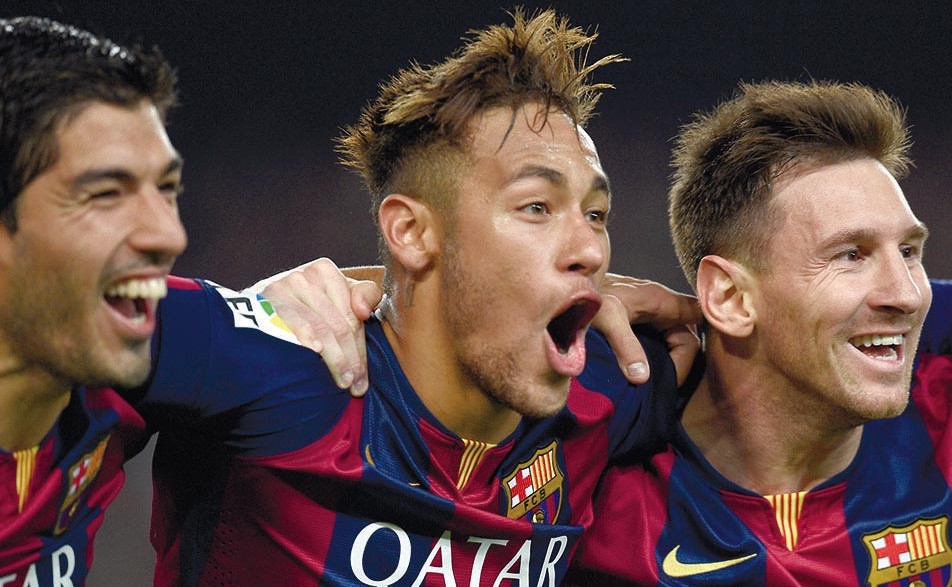 Messi suffered a knee injury, but he will return, most likely from the bench, at tomorrow's showdown against Real Madrid. The greatest forward trio will be reunited – Messi, Neymar and Suares. Together they will try to achieve a victory.
Barca has won four European crowns for nine years. Messi played a key role in the process of the team's succession.
Ronaldinho, Samuel Eto'o and Messi were a forward trio from 2005 until 2007. Together they scored a total amount of 122 goals in 230 matches.
Barcelona won the European Championship and La Liga title during the season in 2005-06. The system was 4-3-3. Ronaldihno, along with Samuel Eto'o and Messi were the most feared trio.
Messi did not perform at 2006 Champions League, because the experienced Ludovic Giulty played.
The forward trio from 2007 until 2009 was Thierry Henry, Samuel Eto'o and Lionel Messi. They scored a total of 152 goals in 261 games. Ronaldinho was not in his best form and he was replaced by Thierry Henry, Arsenal's top goalscorer. Rijkaard left Barca after a 2nd season of success. His team beat Manchester United in Rome.
During this season Messi was moved into the centre and scored 54 goals in 91 games.
During 2010-11 season the Argentinian performed even better. He scored 53 goals in 55 games. The total amount of goals achieved by him, David Villa and Pedro was 98 points in 160 meetings.
Henry and Eto'o were gone by the start of this season. Zlatan Ibrahimovic lasted only one season at Barca. However, the club won La Liga.
Villa, Pedro and Messi form an unbeatable trio, that achieved a great victory over Manchester United and won 2011 Champions League.
This season's trio is formed by Messi, Neymar and Suarez. Messi scored 64 goals and Neymar scored 52 goals in 66 games. Suarez achieved 25 points in 43. The total number of scores is 141 in 175 games.
Barca risked on bringing Luis Suarez in the team, because he was banned after a biting scandal at the World Cup until October. Neymar proved his ability, but he did not stick up a partnership with Messi.
Suarez's aggressive behaviour is perfectly complemented with Messi's and Neymar's skills. The trio broke every record in the Treble campaign during the last season. Even though they have been playing for just a year, the trio have scored more goals than any other Barca front three.
(Visited 161 times, 1 visits today)