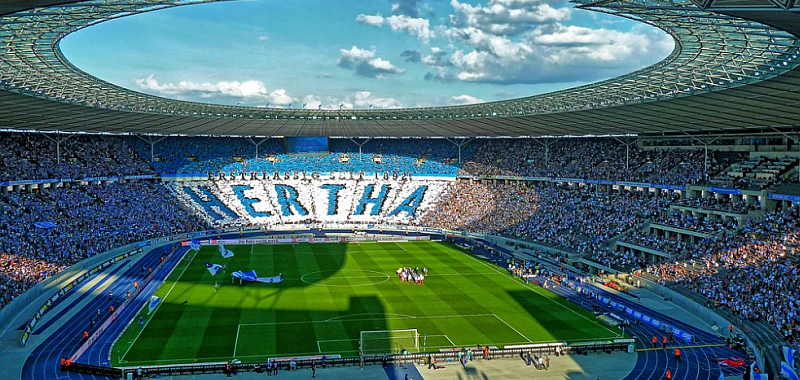 It seems that Hertha Berlin are aimed at finally ending their 38-year wait for a win over the team of Bayern Munich in the national Bundesliga at the Saturday's game with the Bavarians at their Allianz Arena.
Currently, Bayern Munich are on top of the Bundesliga table with an 8-point gap ahead of the runner-up Borussia Dortmund and an overrall result of 37 points out of the possible 39. The Bavarians team, which is currently under the lead of head coach Pep Guardiola, have managed to win all of their last seven matches in the national Championship by at least a four-goal margin and are literally undefeated in Munich over the season.
On the other hand, Hertha Berlin is ranked 4th in the Bundesliga up to date. The last time when the team managed to beat the current leaders was their 2-0 win in October 1977.
Still, according to head coach Pal Dardai the team has nothing to fear about. He explained that Hertha Berlin intend to work on training issues so that the team could look good on the pitch. Dardai also lifted the curtain about his team's ambitions, saying "with 23 points in the table, we have no reason to hide down there."
So, in order to enhance its chances over the match, the team of Hertha Berlin will need to give their best, especially considering its 1-0 win over Hoffenheim last Sunday. The club has managed to win its last two away matches, but the fact that Bayern Munich has found the opponent's net 40 times in 13 league games over the season so far is not to be underestimated.
In comparison, Hertha Berlin have conceded 29 goals in 28 matches within the Bundesliga under their new head coach Pal Dardai took over the team in February 2015. This is considered a great defensive record, which could only be compared to Bayern Munich's achievements over the same period.
Bayern Munich would probably depend on its Dutch winger Anjen Robben, who is considered in great form considering his goal in the first-half of the team's 4-0 defeat over Olympiakos in Tuesday. On the other hand, the left-back David Alaba's presence on the pitch is questionable because he has been suffering an ankle injury after scoring a goal in the match against Schalke 04 last Saturday.
Now Pal Dardai seems to have challenged his team to spring a surprise when the come off against the Bundesliga champions on Saturday. After all, he has enjoyed a strong start on the position of head coach on permanent basis at Hertha Berlin, so future surprises could be about to come.
(Visited 103 times, 1 visits today)