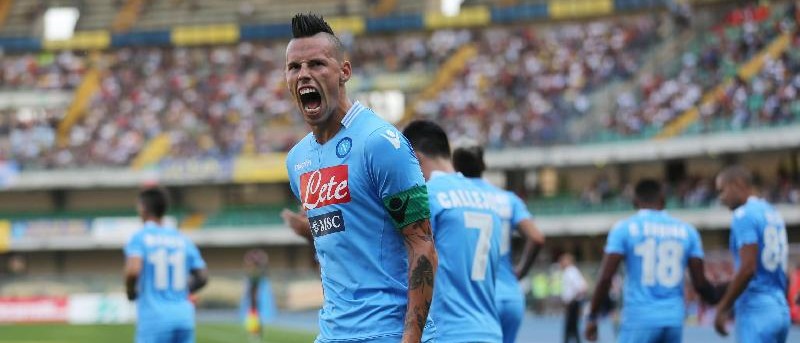 The midfielder Marek Hamsik, who is also captain of S.S.C. Napoli, shared that had been surprised by the fact that the club has made full use of its players strengths over the season so far. However, according to Hamsik, the club will be able to reach the first place in national Serie A only in case that it keeps up with the good work and use the fact that the players are in good form up to date.
The team of Napoli, headed by the midfielder Hamsik, has managed to keep their 100% unbeaten record in the Europa League after five matchdays with their defeat over Club Brugge on Thursday. The result of the game was 1-0, which turned out to be just enough when it comes to continuing its march and demonstrating excellent form and great results.
Napoli's away win over Club Brugge continued the team's success both in its domestic league and in Europe. As a matter of fact, the Italian domestic championship's No.2 was not defeated since the first day of the Serie A season in August 2015. Since then, the team has had a total of 17 matches, which it managed to end with a win.
Hamsik shared for Italian media that the team can believe in winning the national championship title in case it continues to play that well. Still, Napoli's captain said they have a "very long way to go".
Up to date, Napoli occupies the second position in the national Serie A table and is considered as part of the Italian football elite. Team's captain Hamsik commented on the club's performance and shared that in his opinion, Napoli have improved a great deal in comparison to the last season. He also expressed his honest surprise that the team turned out to be this successful over the current season, regardless of the fact that "there was already some good material to work with last season."
The team had already been certain in its success as Group D winners even before their match against Club Brugge on Thursday. Napoli's defender Vlad Chiriches was crowned as the game's hero because he managed to score the only goal in the 41st minute of the match, adding to Napoli's already pretty impressive campaign.
Serie A's No.2 head coach Maurizio Sarri also commented on the team's performance in the Thursday game, saying that the game was very difficult on psychological level, because Napoli tried to avoid "a potential collapse in motivation seeing".
(Visited 125 times, 1 visits today)