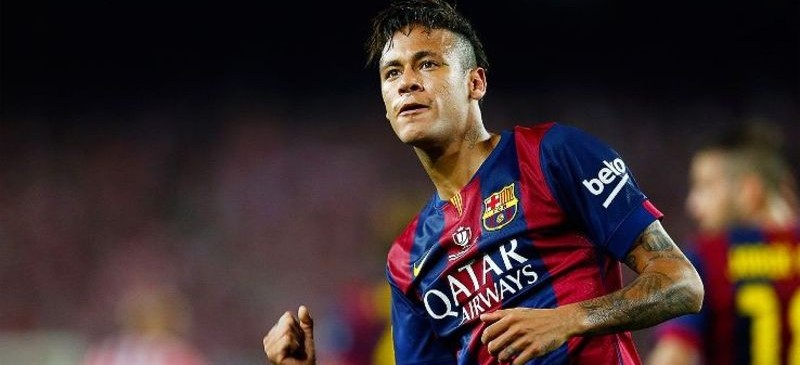 The president of RCD Espanyol has announced that Barcelona star Neymar was not target of racial abuse from his side's fans over the Catalan derby between the two teams that took place over the weekend. Reporters were told by Barcelona's central midfielder Andrés Iniesta that there had been racist chanting over the first half of the game.
According to Neymar's teammate Iniesta, the forward was subjected to allegedly racist chats over the Saturday draw of the club with Espanyol. The manager of the team – Luis Enrique – refused to make a comment on the case, but the players called for their rival's supporters responsible to be punished.
Barcelona's defender Gerard Pique also called for some sanctions to be imposed regardless of the fact that his did not personally hear the abusive words. He said that if such thing happened over the Saturday's game, the individuals involved should be charged for their actions in case thy could be identified.
The former vice president of Barcelona Toni Freixa, who is not part of the club up to date, wrote a special Tweet on his personal account on the social network and expressed his hope that an official record of the "racist chants" would be made by the referee Jose Luis Gonzalez Gonzalez so that official action could be taken.
According to some quotes which appeared in the media, the chief of RCD Espanyol Joan Collet called the accusations a lie and denied hearing anything at the time when he was at the stadium over the game. According to him, there were about 30,000 people "and nothing happened". He explained that the whole story had been based on "one shout", but shared that there has been "nothing generalised."
President Collet also commented on the game, calling it a "high-risk" one. He, however, denied any incidents from happening, calling the supporter's attitude admirable. The team's chief also shared that the club can feel really proud about what happened at the pitch, causing a lot of excitement about the future.
The truth is that the atmosphere over the game was really rough at the RCDE stadium.
When it comes to the criticism to his club's aggressive tactics against their rival over the game, the president of Espanyol said that the nationalist pro-Barcelona policy was a disgrace. He once again called the allegations of racism towards Neymar a lie and shared that the topic of violence had been largely exploited by the Barcelona club at the times when the team do not manage to win.
(Visited 103 times, 1 visits today)