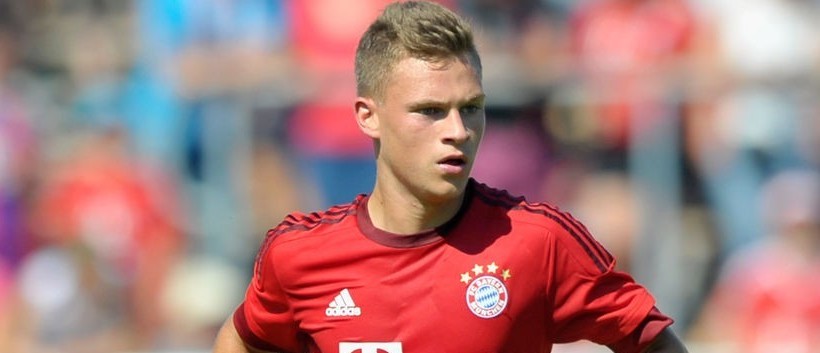 The 32-year-old midfielder Arjen Robben has supported his team-mate from Bayern Munich Joshua Kimmich to win his first appearance at international level for Germany.
Speaking in an interview for a reputable sports media, Arjen Robben backed the young player, saying he should be called up for the Germany squad after having only 16 appearances in the national Bundesliga so far. Robben shared that Kimmich has demonstrated excellent qualities that should be enough in order for him to enter the national team in case he continues to play on like that.
Joshua Kimmich, who is now 21 years old, became part of Bayern Munich's starting eleven at the beginning of 2016, at a time when the club's centre-backs Jerome Boateng, Holger Badstuber and Javi Martinez sustained injuries and the Bundesliga team's new signing Serdar Tasci found it difficult to catch up with his form.
The former midfielder of RB Leipzig was transited back to the centre of defence by Bayern Munich's manager Pep Guardiola. He was entered in eight of the last nine games and was left on the field for the full 90 minutes of the matches. He was only absent in the Bayern Munich's game against Mainz 05 on March 2nd which ended with a 2-1 victory for the visitors.
In addition, Joshua Kimmich got praised for his performance in his side's goalless draw against current Bundesliga runner-ups Borussia Dortmund on March 5th. The young midfielder played an important role on the field, especially taking into account his work against Pierre-Emerick Aubameyang and Marco Reus.
Bayern Munich's head coach Pep Guardiola also praised the young player after the match and said he could only offer his compliments to the 21-year-old.
It is the sports executive of the club Matthias Sammer who should be given the credits for supporting the idea of including Joshua Kimmich in the Germany national football team in the summer. Sammer revealed that at this stage there are only two options for the youngster in the summer – the Olympic Games and the European Championships, but his fate is to be decided by the coaches.
Apart from backing Kimmich, the Netherlands international Robben also shared his delight for Bayern Munich's former president Uli Hoeness, who left prison in late February after spending there 21 months. Robben has been in the German club since arriving there from Real Madrid in 2009.
When asked if the former senior executive could be expected to return to his role at the Bundesliga champions, the 32-year-old midfielder said he was not sure if Hoeness needed such an official function at the football club, since he does everything he can for the club.
(Visited 317 times, 1 visits today)