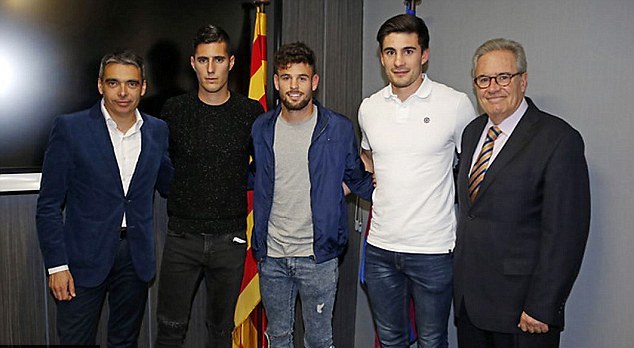 Sergi Guardiola joined Barcelona mere hours ago, but he was showed the door before the ink had dried on his contract. The football club decided to part ways with the Spanish midfielder due to offensive tweets he posted back in 2013.
According to information available at club's website, Guardiola signed his contract yesterday but shortly afterwards fans of the Catalan club found abusive tweets and informed Barcelona officials. The announcement about Guardiola's signing was immediately removed from the website and substituted by a statement that his contract had been terminated.
Barca representatives further explained that the main reason for the contract cancellation was the series of offensive tweets published by Guardiola and aimed at praising Real Madrid and blackening the reputation of FC Barcelona and Catalonia.
Guardiola himself was asked to comment on the matter and he insisted that he had neither posted these tweets nor he had known they existed. The midfielder apologized to all Barca fans and added that it was a huge misunderstanding that helped him learn a difficult lesson.
Guardiola graduated from Lorca Deportiva's academy five years ago and since then, he has been playing for different clubs, which enabled media to define him as a "career journeyman". The midfielder has recently left Alcorcon and was about to start playing for Barcelona B. Once a statement about his contract was published on Barca's website, fans were eager to know more about Guardiola, which resulted in discovering the abusive tweets published sometime in 2013.
The tweets caused mixed reactions among Barcelona fans. Some of them were outraged while others found Guardiola's short spell with the club amusing. Yet, fans realized that the tweets were published almost three years ago and now the midfielder deeply regrets his actions.
In point of fact, this is not the first occasion when a Spanish footballer was haunted by a post in social media. Real Madrid star Isco has previously announced that he considers Los Blancos' fans arrogant and he was "antimadridista" himself. However, a few years later he joined the team and was reminded about his premature statement.
Despite Guardiola's contract termination, Barca signed two promising players on Monday. Former Sevilla Atletico defender Moises and Cornella's Xemi are now a part of Barca's squad. The club also confirmed that Robert Goncalves is also about to join the team as soon as he passes the required medical tests and all paperwork is processed.
(Visited 146 times, 1 visits today)