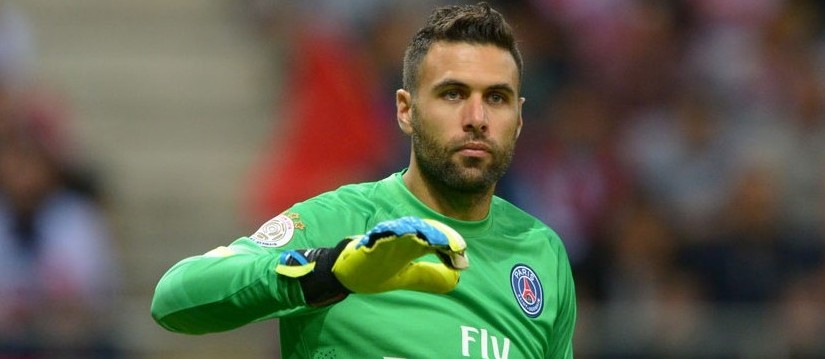 The goalkeeper of Paris Saint-Germain Salvatore Sirigu has admitted that he intends to make an assessment of the options concerning his future in the upcoming weeks. The Italian international has been rumoured to be considering an eventual leave from the club in January 2016.
The 28-year-old goalkeeper appeared only twice on the field over the campaign. He first entered the pitch for the team in PSG match against Bastia on October 17th. His second appearance wearing the Paris Saint-Germain outfit was on Wednesday, when his side managed to win 1-0 over the team of Saint-Etienne reaching the quarterfinals of the Coupe de la Ligue.
However, the Italian has watched the rest of the season from the bench, in spite of the fact that Trapp was obviously facing some difficulties over the club's matches against Bordeaux and Real Madrid.
After the match, which took place at the Parc des Princes, Sirigu himself shared that he did not have a problem with staying in the French team, but he intends to review his position on the matter any time soon. He also explained that he would have a talk with his agent and the club in case that there are any offers and then a decision of what is best for him is to be made.
Paris Saint-Germain that is currently on the 1st position in Ligue 1 table has worked with Sirigu for the past four campaigns. Unfortunately for him, he lost his place in the side after the German goalkeeper Jevin Trapp arrived at the French grand in the summer of 2015.
Last week, the ex goalkeeper of Fiorentina – Francesco Toldo – commented on Sirigu's situation and revealed that the latter may be forced to leave Paris Saint-Germain in case he wants to ensure a place in Italy's squad for Euro 2016.
The now-coach of Paris Saint-Germain Laurent Blanc shared that he preferred to leave the player out of the club's Champions League game against Shakhtar Donetsk in order to prevent Sirigu from getting ineligible to play in the knowckout cup competition in case he joins a new club over the January transfer window.
There have been rumours that Sirigu, who has previously played in the team of Palermo, has been looking forward to receiving an offer from Roma. He, however, denied the rumours that he had refused to play against Shakhar and said he has nothing to ad to the head coach's words.
(Visited 205 times, 1 visits today)