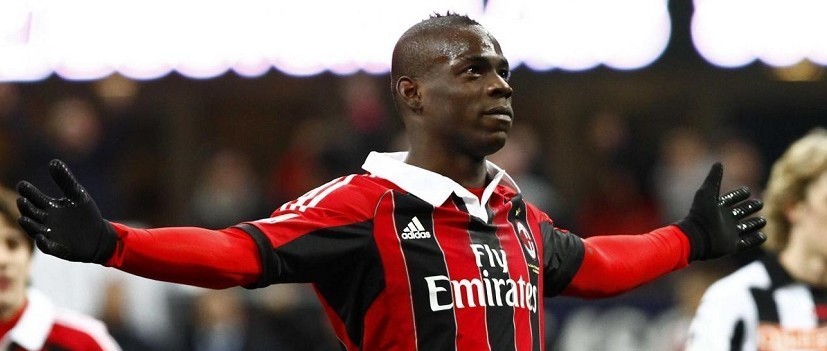 The manager of AC Milan Sinisa Mihajlovic has announced that Mario Balotelli is not to be included in the team's starting eleven at Sunday's match against Inter Milan in spite of the forward's goal in his side's Coppa Italia Semifinal game against Alessandria on Tuesday.
Ballotelli's penalty turned out to be the only scoring in the match, leaving the third-tier club Alessandria defeated in the first game of the competition's semifinals.
However, after the game on Tuesday, Milan's manager Mihajlovic commented on his side's performance, saying that he was only "half-satisfied" with the result, mostly because he had hoped to close the semifinal with a larger score. He also shared that his side had managed to accomplish their main target, which had been winning the game, but he would be happier if they had managed to cement the tie.
Milan's manager also said that regardless of the relatively poor result there was one positive thing, and that was the team getting some playing time in the legs, which was a chance that a lot of teams had not received. Mihajlovic explained that his side's major goal now would be to primarily focus on their game with Inter Milan at the weekend.
When asked how was Balotelli doing over the game, the head coach revealed that the striker is still far from the form that would provide him with the chance to be entered on the pitch in the game against his former club.
Mihajlovic shared for a reputable local sports media that the forward had never been in the "condition to play in a derby". He also added that Balotelli needs to bolster his fitness and overall form, especially considering the fact that he had been sidelined for a long period of time. Mihajlovic also said that he intends to use the best available team for the Sunday's game.
When asked why Balotelli had not celebrated the goal on Milan's game on Tuesday, he commented that it is just the way the player is, which is why everyone must respect the forward's sensibility on the matter. However, the manager did not omitted to highlight the play of Jose Mauri and Andrea Poli among the more rarely used players.
He also admitted that he was actually satisfied that the planned move of Luiz Adriano to China came to nothing. However, he was not able to rule out that any more eventual departures could be made until the end of the transfer window. Still, he said that the club have clear ideas when it comes to the transfer market and the managers are aware who would stay.
(Visited 74 times, 1 visits today)