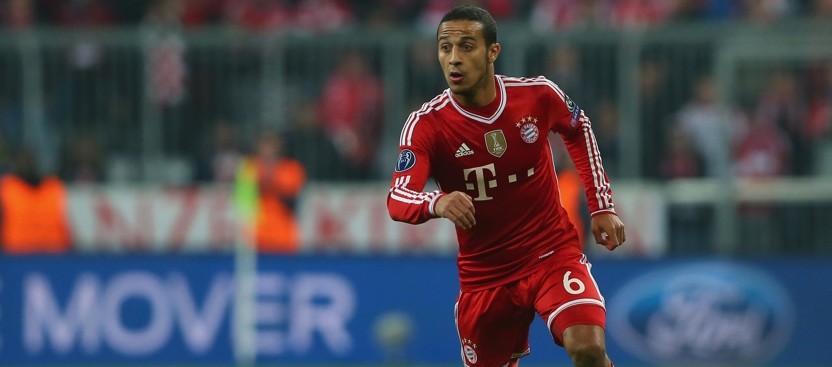 Bayern Munich's Thiago Alcantara preferred the German grand when leaving Barcelona two years ago, regardless of the fact his fellow countryman David De Gea tried to make him choose Manchester United instead. Currently, he is considered as one of the best players of the German team and is will most likely enter the field as one of the starting eleven on Bayern's match against Hannover 96 on December 19th.
The 24-year-old central midfielder, who is also part of the Spain national football team, has been part of Barcelona's La Masia academy until the moment when he left the club in 2013. Alcantara shared that he knew where he wanted to play since the very beginning.
In an interview for the media, the player revealed that David De Gea wrote him a message after the final of the 2013 Under-21 Euro, offering him to join the ranks of Manchester United. Regardless of the proposal, Bayern Munich was the team Alcantara preferred.
Alcantara who is son of Brazil World Cup winner Mazinho expressed his gratitude towards both his father and ex Barcelona player Xavi, who was one of the stars in the Catalan team. Thiago said he is grateful to the Spanish club, because he had literally been "created" in Barcelona and this was the team that first offered him the chance "to touch the ball". The midfielder also commented that it is crucial for every midfielder to be given enough playing time in order to develop their own skills.
In addition, he shared that his father is irreplaceable to him, as he had played an important part in his development as a player. Alcantara confessed it was his father's pieces of advice when he was a child that made the difference for him and helped him become what he is.
Now, after returning from an injury that has kept him sidelined for about a month, the midfielder found his place in the selection of Pep Guardiola. Still, he was once again asked whether he might one day consider an eventual transfer to the English Premier League. Alcantara, however, emphasised on the fact how happy he currently is in Germany.
He did not deny the fact that the Premier League is a great league with excellent clubs and some of the best players in the world, but explained that he feels content at Bayern Munich and does not consider a move any time soon. He also shared how thankful he is to his side's fans for the fact he is well-accepted among them and said he feels responsible to justify their trust.
(Visited 108 times, 1 visits today)