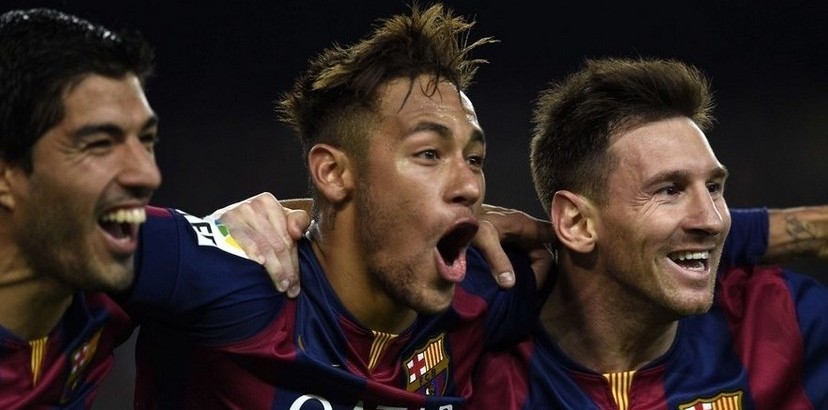 Barcelona have achieved an impressive 6-1 victory over Roma yesterday at Camp Nou. Now the Blaugranes are into the last 16 of the season's Champions League thanks to the amazing performance of the team.
Lionel Messi made his debut after two months absence due to knee injury. The Argentinian showed his eagerness to play and to score after the 4th minute, when he stroke from a long range, but Wojciech Szczesny managed to make a save. Messi scored in the 7th minute. However, goal was ruled out because of an offside by Neymar. The replay showed that there was no offside.
Roma came close to scoring, but the team failed.
Suarez achieved the first goal for Barca after 15 minutes. He brilliantly played with Alves. Three minutes later Messi scored his first goal since the injury and got the Camp Nou rolling.
The game was very intense. Barcelona's attacks were merciless. Enrique's men did not give Roma players a moment to take a breath. The Catalans could not achieve another score until the 34th minute, when Messi and Neymar attacked. However, the game was once again wrongly stopped for an offside.
Roma had some possession, but they could not successfully finish their attacks. On the other hand, Neymar found a way to Suarez, who volleyed brilliantly towards Roma's net.
Barcelona continued in creating scoring positions, but Szczesny was able to save them. Roma had a chance of their own as Džeko, Iturbe and Iago Falque attacked, but ter Stegen prevented it.
In the 55th minute Piqué joined in the scoring. Along with the unbeatable trio, he tapped the ball into the net. The defender was replaced by Marc Bartra right after the attack.
Five minutes later Barca scored again. Messi's initial shot was saved, but he took advantage of the rebound.
Neymar played brilliantly and he was motivated to extend his scoring, but he could not.
In the 80th minute Messi stroke, but did not score. Two minutes later Roma was awarded a penalty, because Vermaelen brought Džeko down in the dangerous zone. Roma's forward stroke, but his shot was saved.
Seconds before the final whistle, Džeko succeeded in scoring against Barcelona.
Rudi García commented they had been lucky that they lost only 6 goals. He said that they had not tried to play and had done "zero, nothing". The manager added that a victory over BATE would keep their options alive.
Barcelona secured the first place in their group. Now they can focus on the remaining game against Bayern Leverkusen and the match from La Liga against Real Sociedad.
(Visited 79 times, 1 visits today)