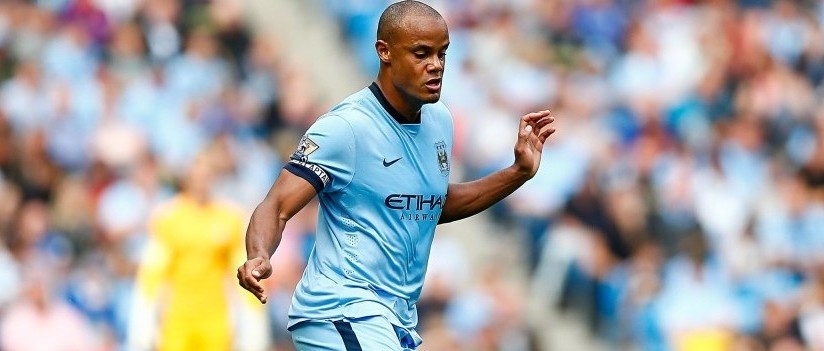 It seems that the captain of Manchester City – Vincent Kompany – is to miss his side's Premier League matches against league's current leaders Leicester City on February 6th and against Tottenham on February 14th due to suffering an injury.
The 29-year-old defender has played less than ten minutes in a period of almost three months after suffering another injury – a calf strain. Kompany has been having a hard time since he joined Manchester City from Hamburger SV in August 2008. This is actually the 13th time he has suffered the same injury since the ranks of his current side.
The injury crisis Kompany is going through has resulted in him losing a lot of game time lately.
In addition, Manchester City's manager Manuel Pellegrini shared there is no guarantee that the defender, who is also part of Belgium national football team, would be available for the club's Champions League last-16 first-leg match against Dynamo Kiev that is scheduled for February 24th.
The head coach of the current Premier League's No.2 team said that Manchester City's captain is unfortunately "far away from a comeback." According to Pellegrini's statement, Kompany would need no less than three weeks in order to recover from his latest muscle injury. He shared in an interview that it would be not enough for the defender to be fit from his latest injury, but also be 100% recovered in order to be entered in a game.
The calf strain of Kompany is just another great blow for Manchester City, who have greatly missed the 29-year-old player's leadership and experience for most of the current campaign. He has been entered in only eight Premier League matches over the season so far, with the club having conceded one goal only with the captain on the pitch.
Vincent Kompany, however, is not the only player who has been struggling for form on the way of Manchester City towards the Premier League silverware in 2015/2016 season. Manager Manuel Pellegrini has revealed that the 27-year-old striker Sergio Aguero is considered quite important for the club in case he can stay fit.
The player has managed to score four goals in his last two games for the Premier League No.2 club.
It was exactly the Argentina international Aguero who ensured one point for his side in Manchester City's 2-2 draw against the team of West Ham on Saturday after finding the back of the net two times. Unfortunately, he did not succeeded in netting another goal, as his third attempt turned out fruitless after striking the inside of the post.
(Visited 104 times, 1 visits today)