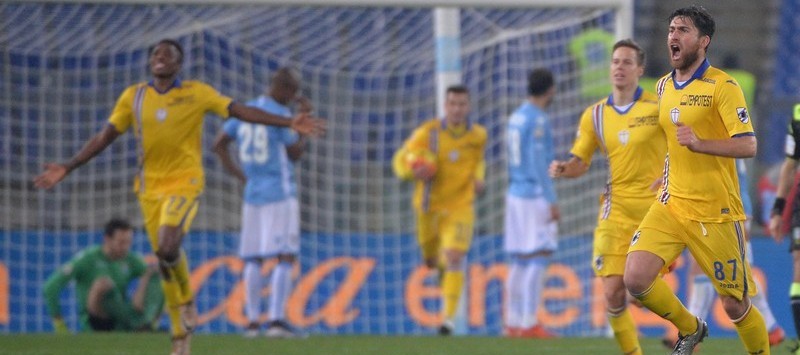 U.C. Sampdoria's Ervin Zukanovic managed to stole a point for his side literally with the last kick of the game against Lazio. The 1-1 draw helped Sampdoria leave Lazio with one point only in their Serie A match that took place at Stadio Olimpico on Monday night. It also turned the Bosnian into a hero for his club as he scored the goal with a free-kick over the stoppage-time.
The set-piece of Zukanovic came in the 93rd minute and brought joy to his side and a lot of disappointment for Lazio, leaving the latter at the 12th position in Serie A. Sampdoria, on the other hand, is now 16th with only three points above the relegation zone line.
The equalising goal that came over the stoppage time denied the team of Lazio a much-needed victory amid a series of unfortunate matches.
The team of Sampdoria was definitely looking determined to do everything possible in order to put an end to their unproductive period marked with defeats only. The club, which currently occupies the 16th place in the Serie A table, has not managed to win a match in its national championship since October 25th.
Finally, U.C. Sampdoria succeeded in taking their first point under their new manager. The club's current head coach is the former Roma's Vincenzo Montella, who came as a replacement to the team's former manager Walter Zenga.
On the other hand, the winless run of Lazio in Serie A continued after the last-kick goal of Zukanovic. The team has a total of seven games without a win within the national championship. Lazio are now 12th, with 2 points gathered from 16 games. It has been having some difficulties over the season and has been hoping for its first win in months, especially when Alessandro Matri managed to break the deadlock in the 78th minute after Stefan Radu's cross.
Unfortunately, Lazio's goalkeeper Federico Marchetti injured himself while celebrating his side's goal. He appeared to pull a hamstring, which is why Etrit Berisha entered the field as a substitute. The 26-year-old Berisha, however, did not look comfortable and provided Sampdoria's Carlos Carbonero with a shooting chance which the midfielder sent over the bar.
Lazio substitute goalkeeper's hard time continued, and three minutes into stoppage time he rushed out of his penalty area and got booked. The free kick of Zukanovic ended up in the net, leaving Lazio with a seventh straight game without a win.
(Visited 114 times, 1 visits today)