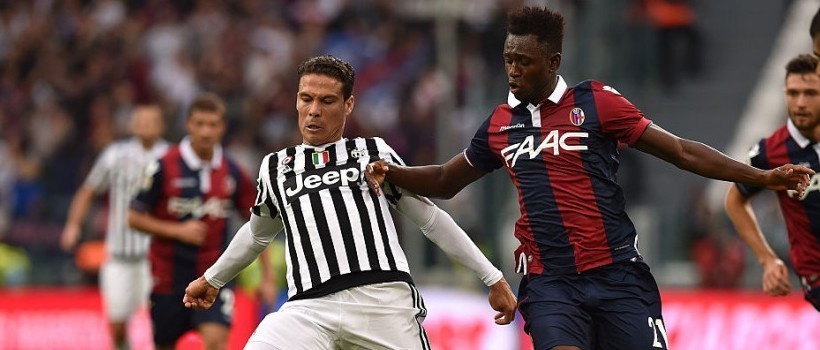 Bologna's midfielder, Amadou Diawara, was rumoured for a possible transfer to Premier League club, Chelsea. It appears the rumours might turn out to be true, as recently Robert Visan, Diawara's agent, declared the Blues are indeed interested in signing the Guinean player in the next transfer window.
The 18-year old Diawara was signed by Serie A club Bologna a few months ago, in August. Prior to the transfer, he played for Serie D club, San Marino Calcio. The Rossoblu signed him for the negligible sum of £420,000.
He made his debut with Bologna in a clash against rival club Lazio. Diawara was called on the pitch, as a substitute for midfielder Lorenzo Crisetig, in the 83rd minute of the game. This season, the Guinean midfielder has greatly impressed with his on-point performances for the Serie A team.
His potential is yet to be fulfilled. Nevertheless, the player has attracted the interest of Chelsea scouts, as was confirmed by Visan. The agent revealed representatives of the English club were sent by Chelsea's manager, Jose Mourinho, to keep track of the young midfielder's development. It appears the said "scouts" were left with a favourable impression, as the agent went on to say in his opinion, the Blues intend to make an attempt at signing Diawara in January, 2016.
Reportedly, the chief reason why Chelsea are on watch for new players, is their desire to strengthen their squad for the next season. Nevertheless, when asked about the possible transfers, Chelsea's Mourinho, responded he had "no right" to approach the clubs owner, Roman Abramovich, for extra funds. The reason being the Blues poor start of the season.
Visan previously disclosed there was a considerable interest towards Diawara, on behalf of German club Schalke 04. The midfielder's agent listed several other clubs, which reportedly have shown interest in his client. Judging by Visan's words Serie A clubs Juventus and Milan are also willing to sign Diawara.
However, the agent claims despite the strong interest, Diawara considers himself "indebted" to Bologna, as it was them, who gave him a much needed boost from the Serie D club, he was playing for. So far, the Guinean midfielder has been featured as a starter for Bologna in ten matches. Not bad, for a player, who debuted in the Serie A just three months ago.
Visan confirmed he works with football agent, Pini Zahavi, who is frequently referred to as "football's super agent". Zahavi has been involved in some of the most expensive transfers in football. However, Visan commented his acquittance with Zahavi does not mean Diawara would be transferred to Chelsea.
"I repeat, he is indebted to Bologna," Diawara's agent concluded.
(Visited 167 times, 1 visits today)