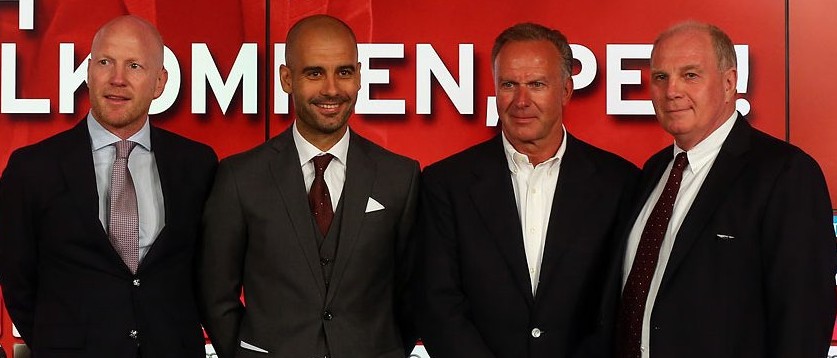 Chief Executive Officer of Bayern Munich Karl-Heinz Rummenigge confirmed that the Champions in the national Bundesliga do not feel worried about the future of head coach Pep Guardiola at a time when his contract approaches its expiration date. Rummenigge explained that the club is prepared for either the coach's leave or his extended stay there.
A final decision on whether Guardiola is to stay to Bayern Munich is expected to be officially announced before Christmas.
The first contract of the Catalan coach with the Bundesliga leaders is to expire at the end of the season. This fact has become a reason for a lot of speculations what step will Pep Guardiola take for his future. The coach's name has been associated with a move to Manchester City or Chelsea, but Rummenigge announced earlier this month that a final decision is to be made over the winter break.
When asked for Bayern Munich's future by the media, the Chief Executive Officer of the club shared that the team is prepared for an eventual exit of Guardiola. He also confirmed that there are negotiations scheduled for after the club's final match on December 19th at Hanover before the winter break.
According to Rummenigge, that date is not planned to be pushed back, and the talks would be held after the match in Hannover, after which, a decision will be announced. They team's Chief Executive Officer said: "We have always said there will be a decision in 2015. I know that it's a late, just days before Christmas."
As a matter of fact, Bayern Munich truly hope that Guardiola will decide to extend his stay. Still, the team that currently occupies No.1 in the Bundesliga table is not concerned about its future in case that the head coach exits the club.
Pep Guardiola, who is 44 years old, has been keeping his lips tightly shut about his plans for the future beyond 2015-2016. There have been rumours that the Spanish coach is to extend his stay at Bayern Munich for another two years, by signing a 2-year contract extension until 2017. The deal was said to be estimated to £17 million on a yearly basis, but it is yet to be seen what the fate of the negotiations will be.
Meanwhile, the club has continued its impressive performance in the German Bundesliga. Bayern Munich is expected to win a record fourth straight cup, which will be even greater considering the vague future of Pep Guardiola as part of the club.
(Visited 64 times, 1 visits today)