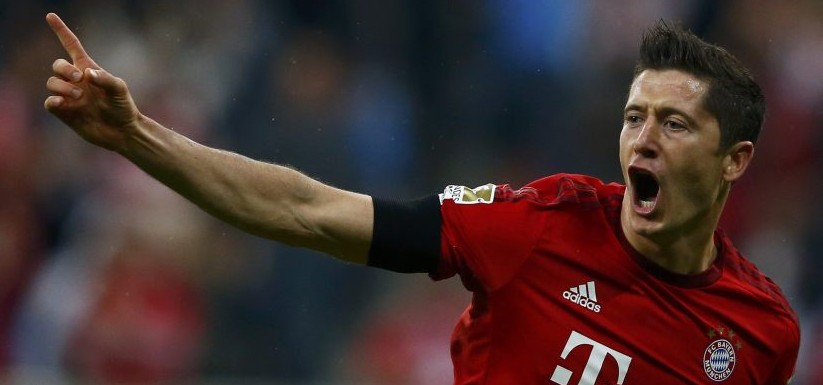 On Monday, Bayern Munich's star Robert Lewandowski was awarded with four separate official Guinness World Record certificates after his stunning five-goal achievement in the club's match against Wolfsburg in September 2015. The player's accomplishment was even more significant because the head coach of the club had chosen to leave Lewandowski on the bench over the first half time of the game.
Pep Guardiola commented on the amazing five-goal haul of the forward saying: "I can't really understand it. Five goals. Neither as a coach nor as a player did I ever experience something like this and I can't really explain it."
The 27-year-old striker was finally bestowed the awards attained as a result of his astonishing five-goal haul during the Bundesliga encounter with Wolfsburg back in September which broke several records.
Lewandowski stayed at the bench over the first half time of the match. Then, after the half-time break, he entered the game as a substitute and literally blew the team of Wolfsburg away regardless of the fact that Bayern Munich's opponents were a a goal down.
Lewandowski was sent into action after the half-time break at a time when Wolfsburg had a head start of 1 goal and started the historic scoring achievement on the 51st minute to end up with a total of five goals in the opponent's gate.
The unbelievable five goals came in a period of just nine minutes, making the forward break a series of long-standing records, all in the player's domestic championship. Lewandowski became the player who has scored the Fastest Bundesliga Hat-Trick, because it took him only 3 minutes 22 seconds to find the opponent's net after coming off the bench.
The first record was swiftly followed by the Fastest Four Goals in a Bundesliga Match, considering the fact that the four goals came within 5 minutes 42 seconds. But Lewandowski had no intention of stopping there and proceeded with breaking the Fastest Five Goals in a Bundesliga Match, which happened only 8 minutes 59 seconds after the striker left the bench to enter the pitch.
The player closed the amazing series by breaking the record of Most Goals Scored by a Substitute in a Bundesliga Match, considering the five times he managed to find Wolfsburg's net.
And of course, that was not all from the Polish for the season. The victorious march of Lewandowski as one of the most successful and highly-appreciated players not only in Bayern Munich, but in the national Bundesliga as well proceeded with the excellent performance of the striker in the matches to follow. He has scored a total of 14 goals within Germany's domestic championship so far this season, helping Bayern Munich keep their 1st position in the Bundesliga table with an eight-point gap ahead of the runner-up Borussia Dortmund.
(Visited 123 times, 1 visits today)