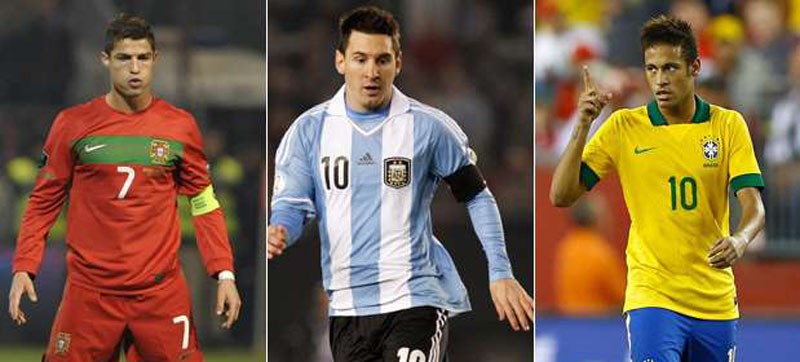 FIFA revealed the nominees for winning the Ballon d'Or – the award granted to the world's best football player of the year – at a special ceremony on Monday. The three nominees are Lionel Messi, Cristiano Ronaldo and Neymar, which means this will be the eight consecutive year for Barcelona's Messi and Real Madrid's Ronaldo to be included in the shortlist.
The three finalists were chosen from a list of a total of 23 names that also included some of the most-qualitative players in the world up to date. The winners are to be officially announced at FIFA's Ballon d'OR Gala that is to take place in Zurich on January 11th.
As already mentioned above, this is an eight straight nomination for both Cristiano Ronaldo and Lionel Messi, with the latter's four-year hold on the award being ended by Ronaldo, who grabbed the Ballon d'Or for the past two years. However, this is the first time for the Brazilian Neymar to be included in the shortlist of nominees for winning one of the most valuable prizes in the football world ever.
Neymar, who is currently 23 years old, has become one of the most-praised footballers lately, after helping Barcelona get to the top of La Liga. In addition, the forward is considered as a player with great perspectives for further development, especially when taking into account his career goals up to date.
Currently, Neymar has a total of 252 career goals so far. Forty-six of these are scored for the Brazil national football team, 40 for Barcelona and 136 – for Santos. In comparison, neither Messi, nor Ronald had the same achievements at the time they were the same age as Neymar. By the time he was 23, Messi had 186 career goals scored, while Ronaldo had 127, respectively.
This makes Neymar strong competition to his legendary opponents, who have dominated the prize for almost a decade.
The three candidates were short-listed among the 50 players to make the team of the year. In addition, Lionel Messi who is currently 28 years old is also a nominee for the Puskas Award for the best goal of the year. The Argentinian has scored 48 goals in 2015 so far, in spite of suffering a severe injury for a couple of months.
The 30-year-old Cristiano Ronaldo, on the other hand, has the same number of goals scored for his country and club, but Messi and Neymar's Bacelona are six points ahead of Ronaldo's Real Madrid in La Liga.
(Visited 86 times, 1 visits today)