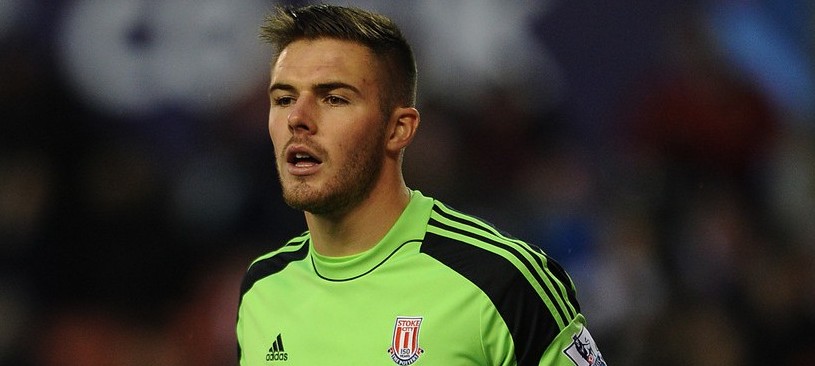 The head coach of Stoke City – Mark Hughes – denied rumours that Jack Butland is to leave the club in order to become part of another team. Hughes insisted that Butland is going nowhere.
According to the head coach, the player's career progression is going well, but he is still "very early in his career development as a number one keeper." Considering the fact that Butland became part of the England squad at the age of 19, he needs to be continuously playing in the Premier League.
Recently, the 22-year-old goalkeeper of Stoke City has been rumoured to be considering a departure of the club, which is currently at 12th position in the Premier League table. His last season in the team was truly spectacular, with impressive performance and demonstration of great qualities.
Butland is expected to become a transfer target for some of the leading clubs in Premier League during the next two transfer windows, but the goalkeeper's current club shared they do not feel pressured to sell him. Some of the largest clubs such as Manchester United, Liverpool and Everton are speculated to be considering making an offer for Butland in January next year or over the summer.
The player who is also part of England national football team signed a four-year contract with Stoke City in March 2015. A few months later – in the summer – Asmir Begovic left to join the ranks of Chelsea and handed Butland the number one spot.
The latter is considered to be part of the head coach's squad for Stoke City's match against Sheffield Wednesday as part of the quarter-final of the Capital One Cup.
As a matter of fact, the 22-year-old goalkeeper became a real hero for Stoke when the team was fighting for the League Cup in their last round. The team managed to beat Chelsea 5-4 in a penalty shoot-out. Butland saved Eden Hazard's penalty and helped Stoke City become part of the last eight that qualified for the next round.
When asked about Butland's future in the team, coach Hughes shared that the goalkeeper is to consolidate himself in a great Premier League team, which would undoubtedly be a challenge for the player, especially considering his young age.
The team is actually prepared to reject any offers that might come for the goalkeeper over the January 2016 and the summer transfer windows, claiming that he is currently "priceless".
The Stoke City's head coach refused to reveal what price the team would expect for Butland, but still, revealed that £20 million would not be enough.
(Visited 105 times, 1 visits today)