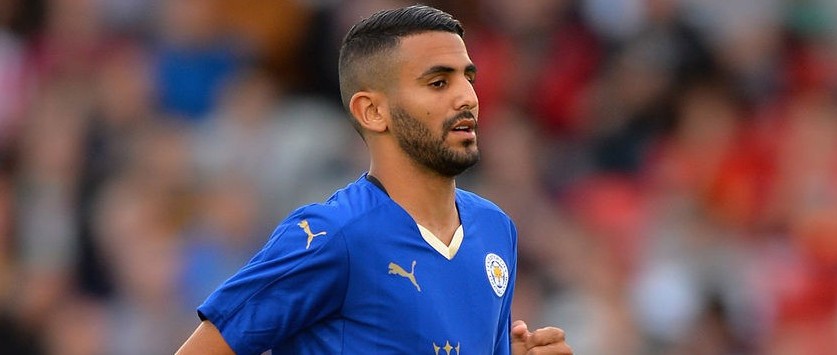 When asked about his future plans, Riyad Mahrez shared that he does not intend to leave Leicester City over the January transfer window, regardless of the fact he does not believe the club will be able to win the Premier League title.
Mahrez joined the Premier League club from Le Havre in 2014. He, however, said that he was unaware why a bigger team of the French Ligue 1 had not preferred to offer him a contract a couple of years ago. Mahrez explained that no French team offered him concrete terms during the last six months of his contract at La Havre.
Leicester, on the other hand, has shown some interest in the player and pushed hard to have him, so the winger took the risk and accepted the offer.
He said that he was very glad for moving to Leicester, explaining that everything that is good for him had started in the moment when he left the French team to move to the Premier League.
The 24-year-old midfielder has demonstrated excellent form and first-class play for his side over the 2015/2016 season. He has a total of eleven goals netted over the campaign, scoring his latest one in Leicester's 2-1 defeat over Chelsea on Monday. Currently, Leicester occupies the first position in the Premier League table.
The fantastic performances of Mahrez lately have led to speculations that he could consider to leave Leicester with the opening of the January transfer window. However, the midfielder denied such a transfer has been prepared, and so did head coach Claudio Ranieri.
Mahrez, who is also part of the Algeria national football team, explained that it would be best for him and the team to stay where he is now. The player shared that he is aware of the fact how important he, Vardy and Kante are for Leicester, so an eventual leave of one of these three "could penalise" the club. This is why he preferred to stay with the current Premier League No.1 team until the end of the 2015/2016 campaign.
Riyad Mahrez also confessed his doubts that Leicester will succeed in winning the Premier League title. The midfielder said that unfortunately, the club is not good enough to bear such an responsibility, not to mention the fact that there are currently other teams that feature "bigger squads." This was exactly why Mahrez expressed certainty that at some point of the second half of the season the other teams' experience and better players' selections will prevail.
(Visited 170 times, 1 visits today)