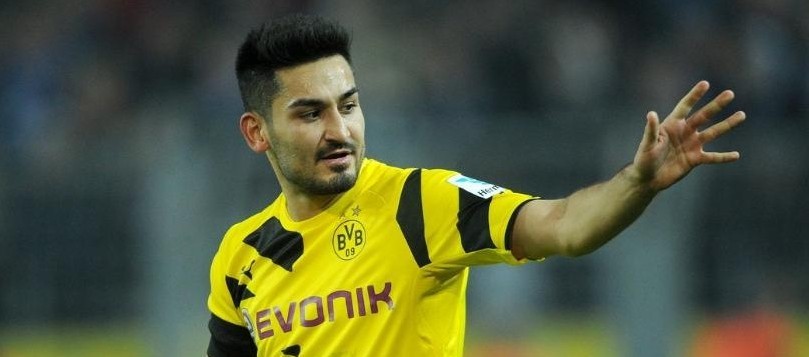 The impressive season which Ilkay Gundogan had when playing for Borussia Dortmund has provoked various speculations over an eventual transfer between the midfielder with some of the largest football teams in Europe. These rumours can undoubtedly be taken as a proof of the great talent and excellent qualities of the German, but also provoke some speculations who would be worthy of replacing him in the team, which is currently ranked 2nd in the Bundesliga.
This month, there were some reports that have linked the 25-year-old Gundogan, who also plays in the German national football team, to some of the most powerful European teams, such as Barcelona, Liverpool and Juventus.
The contract of Gundogan expires in 2017. Some experts believe that the player could turn into "one of the most wanted players" on the transfer market during the summer, especially in case he manages to leave good impression with his play at UEFA Euro 2016.
As a matter of fact, in a recent interview with Sport1, the box-to-box midfielder himself revealed that he would consider the idea of extending his contract with Borussia Dortmund. However, the managers of the club will surely consider various case scenarios.
A great number of football reporters and experts believe that are three major options for eventual replacements for Gundogan in case that his contract with Borussia Dortmund is not extended.
Ki Sung-yueng (Swansea City)
The 26-year-old central midfielder, who currently plays at Swansea City, is considered as a great option for Borussia Dortmund in case that the the Bundeliga No.2 is looking forward to choosing a player who closely resembles Gundogan's playing style.
Ki Sung-yueng is believed to have been looking for a permanent move from his current club, although that Premier League players rarely leave it for the Bundesliga.
Swansea City's midfielder really has a lot in common with Gundogan, which means he could fit perfectly for the possession-oriented playing style followed by the head coach Thomas Tuchel. Ki is currently valued at €10 million by the Transfermarkt, and Borussia Dortmund will not be the only team focused on signing with him.
Marc Stendera (Eintracht Frankfurt)
The attacking midfielder of Eintracht Frankfurt is only 19 years old, which is truly hard to believe thanks to his mature style and excellent qualities. The overall presence of Stendera on the pitch would bring up the memories of the old times, when Borussia Dortmund bought Gundogan in 2011, which makes him a great substitute for the German team's No.8.
If Borussia Dortmund signs a contract with him, Stendera is expected to settle down in the centre, taking the responsibilities of Gundogan. His excellent effort in defence is considered as his biggest strength. The midfielder's current contract with Eintracht Frankfurt is to expire in 2017, which actually makes him a pretty realistic option for Borussia Dortmund.
Stendera is currently valued at €6 million by Transfermarkt.
Youri Tielemans (Anderlecht)
The 18-year-old Belgian, whose début in UEFA Champions League was at the age of 16, is among the less possible options for replacement, but still, he undoubtedly deserves Borussia Dortmund's attention.
The midfielder, who is currently playing for Anderlecht and Belgium national under-21 football team, is expected to become a real future world-class player. If such a transfer is ever considered, the price would be a hefty one.
Although Transfermarkt values him at €12 million only, Tielemans' young age suggests him getting better, provided his talent and great overall qualities. His great speed and excellent technique are considered as his biggest advantages, as well as his ability to pick out a killer pass.
(Visited 154 times, 1 visits today)