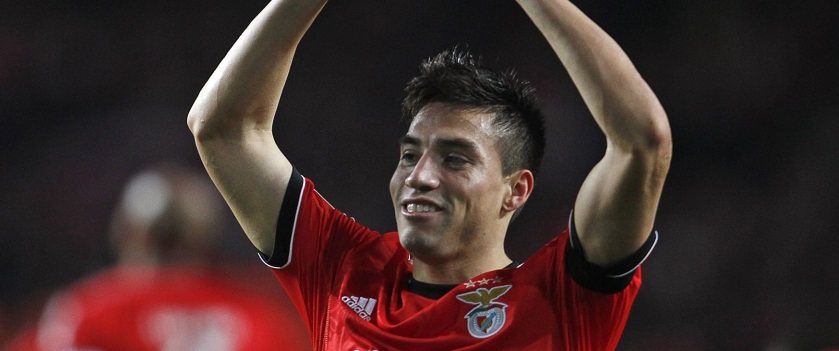 Nicolas Gaitan has finally put an end to the rumours linking him with an eventual transfer to Manchester United by signing a new contract with Portuguese Benfica.
The new contract signed between the club and Gaitan is a long-term one. It is to expire in June 2019, which is a year before the player's previous deal. The new contract features a minimum fee release clause estimated to €45 million.
Over the last several years, there have been speculations that associated the 27-year-old midfielder with various teams, including another club from the Premier League – Liverpool – with the latter said to be interested in signing with Gaitan over the summer transfer window. Currently, the midfielder is also part of the Argentina national football team.
The player described Benfica as one of the largest clubs in Europa and commented on the deal with Benfica, saying: "This renewal is fantastic." He also shared that for him, the renewal of the contract was also a "vote of confidence" from Benfica's side, so both parties were finally happy.
Nicolas Gaitan celebrated the deal on Facebook, thanking everyone for the trust and value in his work at the team. The midfielder has lifted the Primeira Liga title twice with Benfica. At the time of his contract as part of the team, he has also won one Portuguese Cup, a Super Cup and four League Cups. He has a total of 234 appearances in the club's matches, having scored 34 goals up to date.
He has managed to establish himself as one of the stars of the Protuguese Primeira Liga after moving to Benfica five years ago. He has been standing out in the championship and has regularly been associated with an eventual move to another team, especially to Manchester United.
Of course, Gaitan would not deny a potential future transfer, but revealed that he would take only a significant offer from a major football club in order to leave Benfica behind. He shared that he is happy in the club and only "something extremely good" would take him away from the Portuguese team.
Currently, S.L. Benfica occupies the third position on the Primeira Liga table. The club managed by the head coach Rui Vitoria was defeated 2-1 by Atletico Madrid in their Champions League match on this Wednesday, but have already progressed to the last 16 of the competition considered one of the most prestigious in the football world.
(Visited 169 times, 1 visits today)