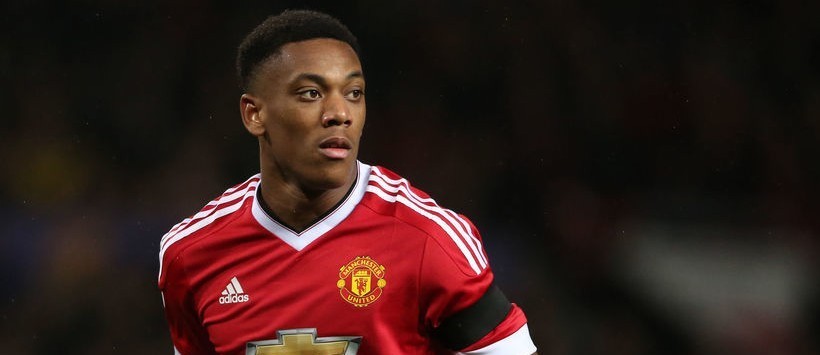 Anthony Martial became the latest player who joined the extensive injury list of Manchester United. The 20-year-old forward suffered a trauma in his hamstring in the team's warm-up for their Europa League match against Midtjylland on February 25th.
Martial, who is also part of France national football team, was replaced by the 18-year-old Marcus Rashford in the game that the Premier League club needed to win in order to overturn the 2-1 loss from the first leg. The substitute Rashford was not used in games against Watford and Leicester over the current season but manager Louis van Gaal decided to give him a chance against Midtjylland.
Rashford not only found a place in the starting eleven, but also scored two crucial goals in the last-32 second leg to help his side rally for a massive 5-1 victory. Manager Van Gaal commented on his performance, saying he expects consistency in the future, as such players are needed at the Old Trafford.
The team of Manchester United lacked an overall of 13 available players against the Danish club. At a post-game press conference, the Premier League club's coach explained that the hamstring injury of Anthony Martial is not serious.
Louis van Gaal also praised Martial for the fact he admitted he was not fit enough to play after the injury and added that the trauma does not seem as a heavy one at first sight. The Manager also said that the 20-year-old forward is tired and that is quite normal as he had taken part in all matches in the current campaign so far.
Martial is not the first player of Manchester United who suffers an injury during the warm-ups lately. The club's goalkeeper David De Gea also sustained an injury of his knee in the pre-match period while warming up for the game against Midtjylland in Denmark. Their traumas have undoubtedly influenced the manager's choice for the first-team selection for the two games against the Danish team, and especially the one at the Old Trafford.
Louis van Gaal put the stand-in captain Michael Carrick as a centre-back, after Chris Smalling suffered a shoulder injury that have deprived the club of much options before the match. When speaking of the latest injury blow to Anthony Martial, the manager shared his disbelief that such a thing had been happening again. He also said that it is difficult to change or rotate players when you do not have anyone left.
(Visited 163 times, 1 visits today)