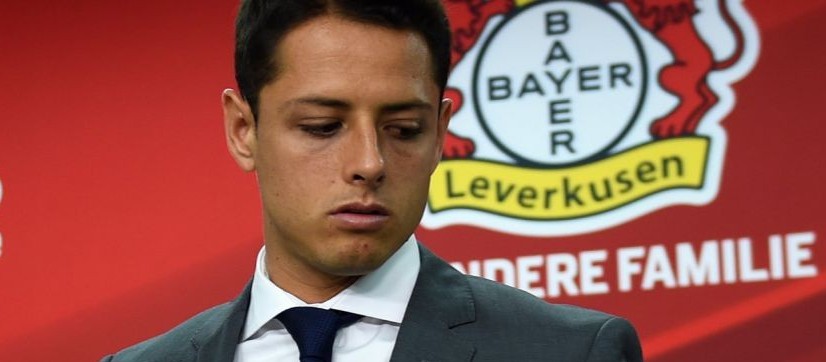 Javier "Chicharito" Hernandez has continued the demonstration of his top form with a total of 10 goals in his last seven matches for Bayer Leverkusen within the national Bundesliga.
The 27-year-old forward managed to score two goals in the German club's victory at Eintracht Frankfurt. The match, which ended 3-1, was considered just another proof of Hernandez' extraordinary qualities, which he has been determined to show after his €12-million transfer from Manchester United in the summer of 2015.
The head coach of Bayer Leverkusen Roger Schmidt commented on the performance of Chicharito in the team, saying that he had managed to get integrated in the club's game, calling him "very ambitious and very professional." He also said: "It's extraordinary that he scores that consistently."
Schmidt has praised not only the qualities and great form that Hernandez has been currently demonstrating, but also his overall performance. The Bayer Leverkusen head coach told international media "It does the team a lot of good to have a striker like Chicharito who scores regularly.", confirming the great role the striker plays in the German No.6.
The striker, who originates from Mexico, made history, because he has become the first ever from his country to score a goal in seven straight games in a European Championship. He has already set several records along the way while playing at the German team.
After his amazing performance at the Bundesliga match against Eintracht Frankfurt, Chicharito extended his scoring run to 12 goals in a total of 15 appearances with Bayer Leverkusen's outfit. Six of these goals are scored in Bundesliga matches, making Javier Hernandez the best Mexican player ever played in the German football Championship.
The previous best – 4 goals in 71 Bundesliga appearances – was a result of his compatriot Pavel Pardo while the latter was playing for Stuttgart in the period between the summer of 2006 and December 2008.
Javier Hernandez was praised for his qualities by the 2014 World Cup winner and German midfielder Christoph Kramer, who shared it was not surprising for Chicharito to be seen playing like that less than 48 hours after playing in the World Cup qualifier of Mexico national football team and returning from Honduras.
On the other hand, Hernandez himself explained that he was delighted with his play, but still, we has not fully satisfied with his achievements for Bayer Leverkusen up to date. He added that the goals he scored gave him confidence.
(Visited 79 times, 1 visits today)