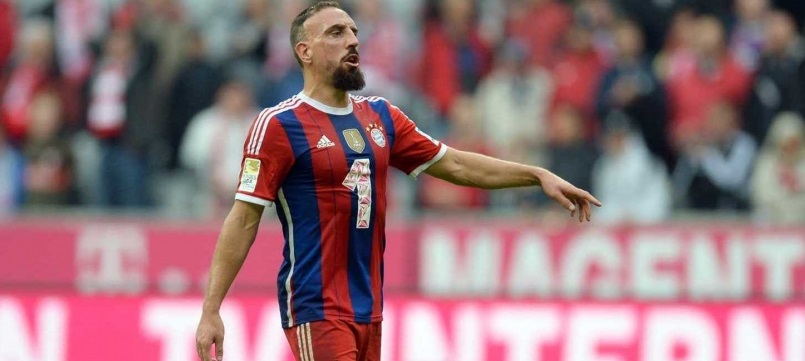 The No.1 team in the German Bundesliga – Bayern Munich – has announced that its players Franck Ribery and Medhi Benatia are to be sidelined for the club's remaining matches until the end of 2015. The team has only three matches left until the winter break.
The 32-year-old midfielder Ribery and the 28-year-old defender Medhi Benatia were withdrawn due to injuries they adopted over the 2-0 Champions League victory of Bayern Munich against Dinamo Zagreb on Wednesday. The players are claimed to have muscular problems in an official statement of the football club posted on its website.
According to the statement, both players have been diagnosed with strained muscles by chief medical officer Dr Volker Braun. Bayern Munich revealed that Benatia and Ribery are withdrawn from action, which would make them unavailable for selection for the club's three upcoming matches right before the winter break.
No more details were provided by Bayern Munich about the two players' injuries. However, this is considered a severe blow for both the team and the players.
Legendary Franck Ribery had been making his second appearance for the German No.1 team after he managed to return from another injury layoff, which had sidelined him for a period of nine months. The ankle injury he has been dealing with had him sidelined since March 2015. 32-year-old Ribery has been speculated to be considering an eventual retirement.
As already mentioned, this was the first time Ribery entered the pitch after returning to the club's ranks after the nine-month injury that kept him out of game for nine months. The played for only one half of the Bayern's 2-0 victory over Dinamo Zagreb and was replaced because of the muscular injury that actually turned out to be worse than initially considered.
On the other hand, the 28-year-old defender Benatia has been facing some hard time dealing with some injuries since he joined the club from Roma in 2014. He took part in only 12 of Bayern Munich's 24 competitive games over the current season.
The team is currently 1st in the national Bundesliga table. It has three matches left until the winter break. First, they are to host the team of Ingolstadt on Saturday, after which they are to face Darmstadt in a clash for the German Cup on Tuesday. The last 2015 match of the Bundesliga champions is scheduled for the weekend before Christmas, when they will face the team of Hannover.
(Visited 94 times, 1 visits today)