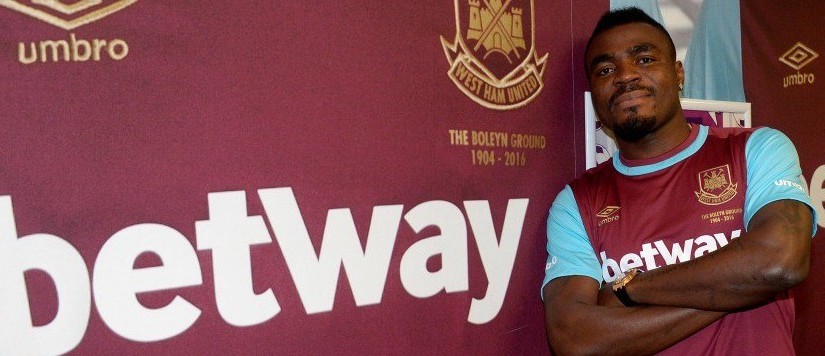 West Ham United have confirmed that the club signed the Nigeria international Emmanuel Emenike on loan from Fenerbahce. According to the club's official statement, the signing is planned to be until the end of the season.
According to media reports, the Premier League club have paid a fee of £730,000 in order to sign the striker until the end of 2015/2016 campaign.
The player, who had been capped 37 times by the Super Eagles, spent part of the current campaign on a loan contract as part of the Al-Ain team in the United Arab Emirates, where he played at Arabian Gulf League. In addition, West Ham United are provided with the option of making the transfer permanent over the summer of 2016 by paying them a transfer fee of £8.1 million for the forward.
The 28-year-old striker has also announced the contract. He has expressed his hope to fit well in manager Slaven Bilic's squad and make an instant impact there. The player and the head coach know each other from Bilic's past spells at Russian and Turkish teams.
Emenike said in an interview that he had always known the Premier League club as a great team. The forward commented that joining the squad made him very excited. He also confirmed he was very glad with the chance to play for manager Bilic, whom had known for years, since the time the latter coached Lokomitiv Moscow, and Emenike was part of Spartak Moscow. Then, Bilic moved to Besiktas, while the player went to Fenerbahce.
The player also commented that the two of them had been following each other's careers for quite some time now, so it was a great thing for both of them to finally meet in West Ham United. Emenike shared his ambition to be part of the starting eleven of the Premier League club. He said that one of his paramount goals is to try make the club's supporters happy with his performances and provide his best over the games.
Up to date, occupies the sixth position in the Premier League table. According to Emenike, the league is the best in the world, which is exactly why every football player dreams to come and play there. Still, he commented that great performances at the field are always a team work, and he intends to play and work with the rest of the players.
Emenike is considered a good addition for the team of West Ham United, because he is due to offer some excellent attacking options for manager Bilic at the time when 27-year-old striker Andy Carroll is currently sidelined because of an injury.
(Visited 127 times, 1 visits today)