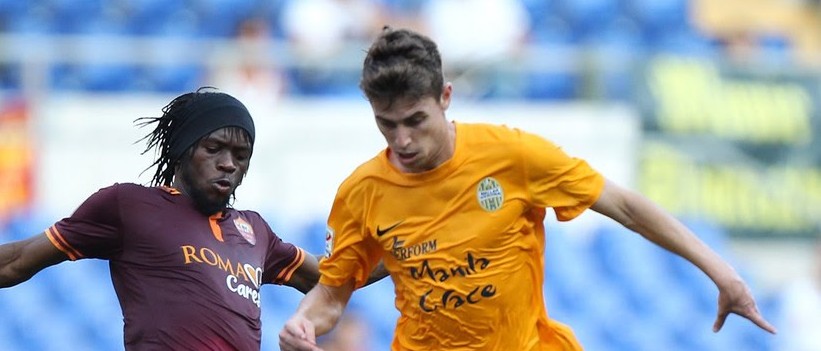 Napoli's midfielder Jorge Luiz Frello Filho, better known as Jorginho, is still waiting for his club, to contact him for his contract renewal. The Brazilian started his career at Serie A club Hellas Verona, where he remained until the beginning of 2014. Then Verona agreed on a co-ownership deal with Napoli and the midfielder was transferred there. This summer, Partenopei reportedly paid the fee of €3,5 million for his full ownership.
Jorginho's history with Napoli is anything but disappointing. In 2014, he assisted the team in their win of the Coppa Italia Finals against rival club Roma. This season, the player performed brilliantly on the field, under the guidance of Napoli's coach Maurizio Sarri. At this point the Brazilian has joined his Partenopei team mates for a total of twelve games.
Despite the success Jorginho enjoys with Napoli, rumours have emerged several clubs from abroad, are interested in the midfielder. One of the clubs, Jorginho's name has been associated with, is the English Arsenal. He's also linked with Arsenal's rivals, Manchester United and Liverpool. Some speculate French champions, Paris Saint-Germain, have contacted the 23-year old with a transfer deal as well. Others argue the midfielder is likely to move in the winter transfer window.
Such speculations are further fuelled by the fact, the player is still waiting for Napoli representatives to reach him for his contract renewal. However, Jorginho's agent, Joao Santos was quick to put the matter to rest, as he denied the midfielder had been contacted by clubs from abroad. Santos dismissed all rumours of the Brazilian's possible transfer to any Premier League club.
The agent went on to explain the interest towards Jorginho, with his excellent performance with the Partenopei. If any foreign clubs are following the midfielder's career, the fact can be attributed to Jorginho's skill and potential, Santos continued. "He's young, he's doing well and so are Napoli", he explained.
However, the player's agent was forced to admit, he actually has no idea, as to whether or not Napoli have plans to negotiate with anyone for a possible transfer.
Santos then broached the question of Jorginho's contract renewal. The agent assured he stays in contact with Napoli's management, in particular with Cristiano Giuntoli – the current sporting director of the Serie A club. Apparently, the Italians are planning to extend the player's contract and even improve his position with the team, but the club's officials still haven't attempted to contact the Brazilian to negotiate for the renewal.
There is no need to worry over it, however, as Jorginho is to stay on contract until 2018. "I can't be the one to make the first move, given the duration still left on the contract", Santos concluded.
(Visited 112 times, 1 visits today)