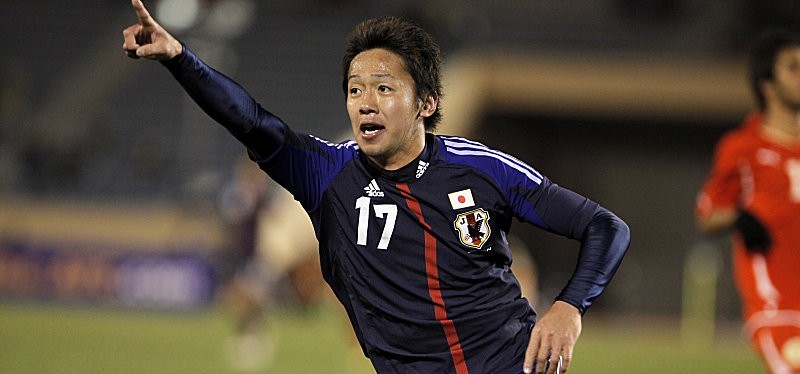 Hannover 96 officially announced that the 26-year-old Hiroshi Kiyotake has been sidelined until the end of 2015 due to a hairline fracture in the player's foot.
Kiyotake, who is also part of the national football team of Japan, suffered the injury while playing for his national team. Luckily, he it will not be necessary for him to undergo a surgery. The trauma was picked up by the midfielder of Hannover 06 over the last training session before the team's qualification match for the 2018 FIFA World Cup with Cambodia. He will now stay in Japan in order to get proper medical help and treatment.
Michael Frontzeck, who is the head coach of the German team where Kiyotake plays up to date, wrote on the official website of the club: "The injury's very bitter, for Kiyo and also for us as a team. We will have to cope with his absence." Frontzeck also explained that Kiyotake had been in "great form" recently, which makes him one of the key players for the team.
Hannover 96, which currently occupies the 15th position in the country's Bundesliga, has only five matches left to be played before the league winter break. This is exactly why the trauma of the hairline fracture that Kiyotake is suffering from will rule him out of the game until the end of the year.
The midfielder, who originates from Japan, came back to the German No.15 on matchday four after being sidelined for 13 weeks. He had been part of the starting eleven in every match of the club ever since until suffering the injury. The playmaker was truly one of the team's key players, especially considering his great overall form. Kiyotake had managed to score a total of three goals and made four assists in his nine appearances in the German Bundesligue.
As a matter of fact, things are not going very well for Hannover 96 up to date, and the Kiyotake's injury will surely not help the team in the slightest. The team has managed to pick up a total of 11 points so far, which puts it only one point ahead of VfB Stuttgart in the relegation play-off spot after twelve games.
Hannover's return to action is expected to be tough, especially considering the fact that the team will have to face Borussia Mönchengladbach that had won six games in the league. In comparison, Hannover had managed to win just one of their last four matches, and the absence of Kiyotake for the five fixtures left before the winter break will not make things for the team easier.
(Visited 98 times, 1 visits today)