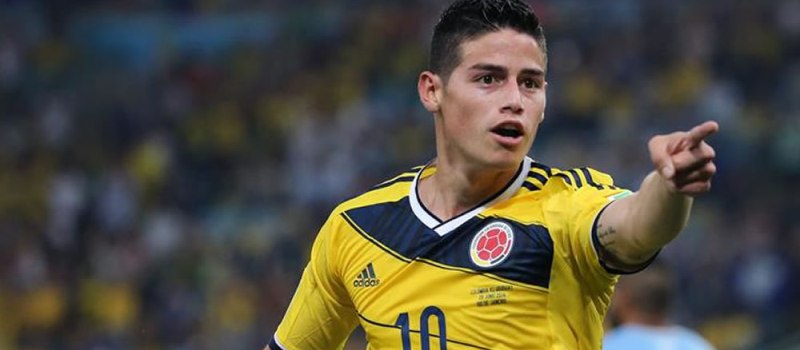 According to various reports, Manchester United have eyed yet another La Liga star. The Premier League club is expected to submit a bid for James Rodriguez, the attacking midfielder of Real Madrid.
Rodriguez has been linked to different clubs including Manchester City and Chelsea and now it seems Manchester United is also prepared to pay a significant amount of money for his services. Rumor has it that the club has already entered into talks with Rodriguez and in case of a successful outcome, he is to join the team in the summer.
In point of fact, Rodriguez has not been getting along well with Real's manager lately and this factor might determine his final decision to join the Red Devils. Although the manager will find it difficult to find him a replacement, the club might accept the bid in order to secure funds for signing targeted players.
Rodriguez' eventual arrival to Old Trafford will not come cheap, though. Various sources suggest that Man United will pay between £56 and £60 million to land the 24-year-old Colombian attacking midfielder.
Manchester United is prepared to spend about £200 million on transfers in January and in the summer and signing Rodriguez is believed to be among their top priorities. If United hierarchy succeeds in luring Rodriguez to substitute the sun in the Spanish capital for the north-west England rain, Manchester United will add a creative spark to the team.
Van Gaal's men have been reportedly criticized for playing "dour possession-hogging football". Rodriguez' presence at Old Trafford will be yet another attempt to restore the old glory of the team. Louis van Gaal has already announced that he intends to strengthen the squad and he has a massive amount of money at his disposal.
Manchester United have recently given up on landing Christiano Ronaldo and Gareth Bale but they remain hopeful that they will sign a Real Madrid star after all.
Rodriguez joined La Liga last year and his transfer from Monaco to Bernabeu cost £71million. The Colombian has also attracted the attention of leading European clubs after demonstrating excellent skills during the 2014 World Cup matches. However, he made just eight appearances during this season, scored three goals and registered four assists.
The tension between him and Rafael Benitez is said to be among the key reasons why Rodriguez seeks a new career challenge. The latter factor boosts Man United confidence that they might sign him provided that they send the right offer at the right time.
(Visited 101 times, 1 visits today)