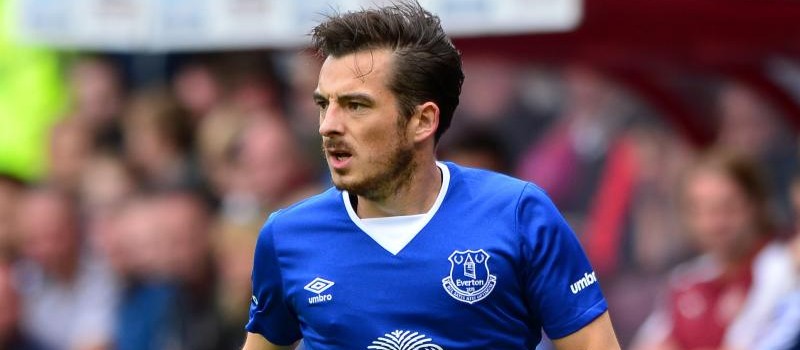 Roberto Martinez, the current manager of Everton, announced that Leighton Baines' return to the football pitch is still uncertain. The defender has not played for the Blues since May after a severe injury that led to the necessity of undergoing two serious ankle operations.
Although Baines took part in last week's game against Preston North End, the manager seems reluctant to set a date for his return to Goodison Park. It is still questionable as to whether Martinez is to let Baines play against Aston Villa on Saturday. According to him, bringing the left-back to the pitch before he is fully recovered is a huge risk and he was not keen on taking it. Bryan Oviedo and Brendan Galloway are also likely to miss the match due to injuries.
When asked to comment on Baines' condition, Martinez said that he was mindful over letting him play despite his good performance in the behind-close-doors game against Preston North End, where he demonstrated good tempo but lacked match sharpness.
Nevertheless, Everton's manager said that it was not necessary to put pressure on Leighton and "erring on the side of caution" was the wiser decision. Martinez' top priority is making sure that the defender has returned to full fitness for the second half of the current season.
Everton's manager is looking forward to the day when both Oviedo and Baines will be fully recovered from injuries as he will have a total of three players who can cover the left-back position.
Martinez said that it was always good to have the chance to select between several good players and drew a parallel between the three Everton defenders. He said that Leighton was really experienced, but The Blues can rely on yet another prominent player namely Bryan Oviedo. As for Brendan Galloway, Martinez defined him as a young man who plays an important part in the club and nobody was going to minimize his efforts and dedication.
Luke Garbutt is on loan at Fulham for the season, which narrows down the options Martinez has for the Saturday's match against Aston Villa, but regardless, he confirmed that he was not going to make an unwise decision and let Baines play before he returns to full fitness.
As for Baines himself, he also commented on his ankle injury and said that it was "a new ground" for him. Before the severe injury, he had never been off for more than two weeks but he remains confident that he will be back on the squad sooner than his fans expect.
(Visited 77 times, 1 visits today)