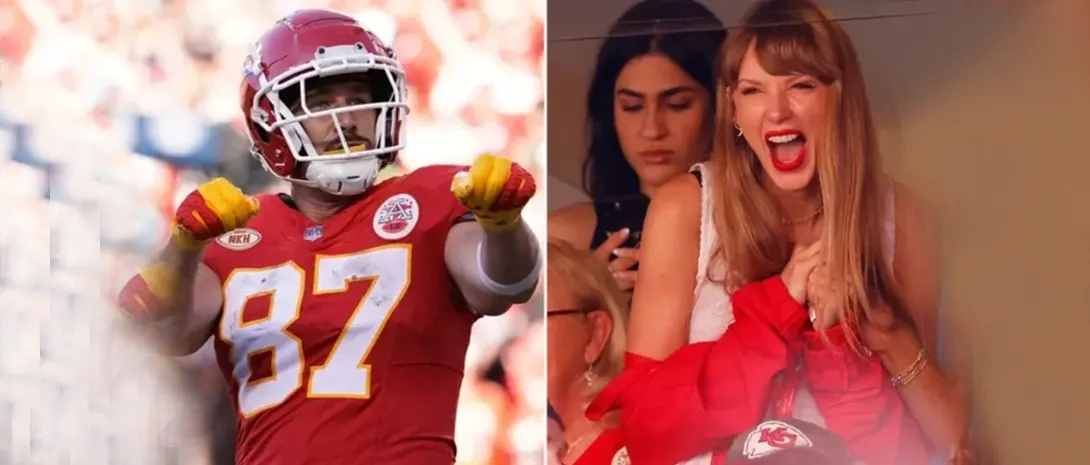 Key Takeaways:
The NFL defended its engagement with pop cultural events involving Taylor Swift.
Travis Kelce, the Kansas City Chiefs tight end, expressed concerns about the NFL's approach and his rising celebrity status.
There has been a mixed fan response to the NFL's evident promotion of Swift during games.
Unveiling the Story Behind the NFL's Taylor Swift Strategy
In a curious blend of sports and pop culture, the National Football League (NFL) found itself necessitated to issue an official statement amidst escalating conversations and, at times, backlash concerning its pronounced coverage and association with pop icon Taylor Swift.
kanye reference when they just got the whole taylor swift fanbase on their side LMFAOOOO https://t.co/gTgiFLouiX

— lil mumu. 🇵🇸 (@mautezawad) October 3, 2023
The NFL's Stance: Merging Sports and Entertainment
"The Taylor Swift and Travis Kelce news has been a pop cultural moment we've leaned into in real time, as it's an intersection of sport and entertainment, and we've seen an incredible amount of positivity around the sport,"
noted the NFL, emphasizing its strategic choice to engage with culturally relevant happenings. The mention of Travis Kelce, tight end for the Kansas City Chiefs, brings attention to his notable commentary regarding the league's promotional activities and his personal experiences in the widening scope of celebrity.
Travis Kelce's Perspective and Experiences
Expressing his perspective on his New Heights podcast, Kelce hinted at the NFL's perhaps overzealous spotlight on Swift during its games, suggesting an overextension in making her a focal point of attention. His statements reveal a dichotomy, acknowledging the intrusive aspect of celebrity – with paparazzi and heightened public scrutiny – while also admitting,
"I did this to myself. … I know this."
Kelce, in a nuanced admission, recognizes the inherent territory that comes with his elevated status and the league's interactions with high-profile figures.
🚨 | Travis Kelce says the NFL is "overdoing it" with the Taylor Swift coverage. pic.twitter.com/i7MRIdwbcP

— Pop Flop (@ThePopFlop) October 4, 2023
Insights from NFL's Marketing Strategy
Ian Trombetta, the NFL's Senior Vice President of Social, Influencer, and Content Marketing, communicated the league's intent to spotlight celebrations without crossing into the realm of oversaturation. The league's promotional endeavors, including visibly highlighting Swift's attendance at games and changes in social media bios, have arguably tiptoed along the edge of this fine line, evidenced by varied fan reactions.
🚨 | @NFL changed their header and bio today! pic.twitter.com/9L6YfNM9qs

— Taylor Swift Facts (@blessedswifty) October 2, 2023
Fan Reactions and Future Implications
The unfolding relationship between the NFL, Swift, and even Hollywood A-listers like Ryan Reynolds and Hugh Jackman, has been met with a mosaic of fan responses. From over 27 million viewers tuning into the Chiefs-Jets game featuring numerous live cuts to Swift, to audible boos from New York Giants fans at a promotional Swift image, the collision of the sporting and entertainment worlds has generated a spectrum of feedback.
From @TheAthletic: Stop with the hate for Taylor Swift fans. They're good for football, too. "Every female sports fan has had her fandom questioned. It's the quiz. Every woman reading this knows what I'm talking about," writes our columnist. https://t.co/X21ZjY75OW

— The New York Times (@nytimes) October 3, 2023
The forthcoming Week 5 game, where the Chiefs face the Minnesota Vikings, poised under the watchful eye of fan anticipations, will perhaps further gauge the impact and sustainability of the NFL's current strategy in intertwining sports with pop culture moments. Will this blend continue to spark intrigue and engagement, or navigate into realms of over-commercialization? The ensuing weeks of the NFL season may unveil the answer.
(Visited 13 times, 1 visits today)