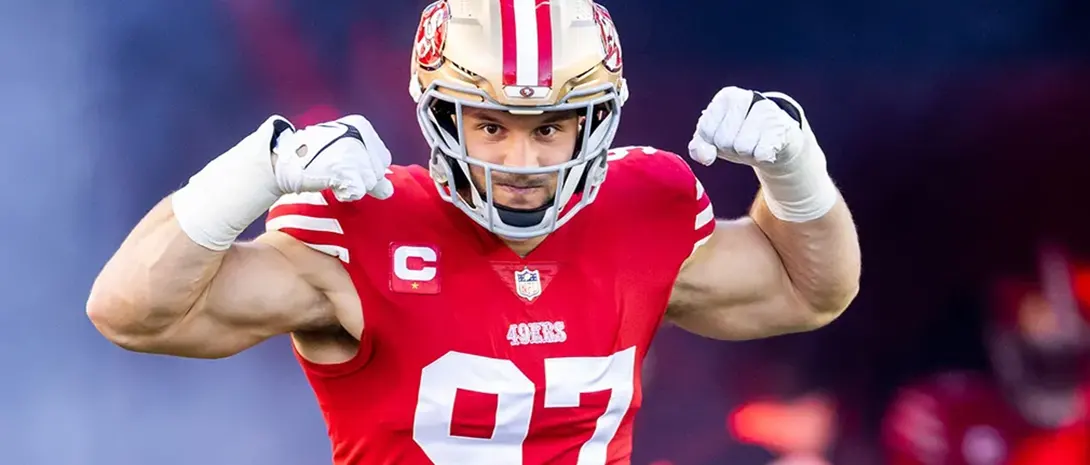 Key Takeaways:
Nick Bosa, the San Francisco 49ers' defensive end, has secured a historic NFL contract.
Bosa's five-year deal is valued at $170 million, averaging $34 million per year, making him the highest-paid defensive player in NFL history.
He also claims the highest signing bonus ($50 million) and guaranteed money ($122.5 million) ever for a defensive player.
Teammate Jake Brendel expressed excitement and noted that Bosa's contract sets a new standard for future players.
Nick Bosa, the formidable defensive end for the San Francisco 49ers, has etched his name into NFL history by signing a groundbreaking contract. The deal, valued at a staggering $170 million over five years, cements Bosa's status as the highest-paid defensive player ever in the NFL. This remarkable agreement averages an impressive $34 million annually, surpassing the previous record of $31.7 million held by Aaron Donald.
Source: Nick Bosa has agreed to a five-year, $170 million extension with the San Francisco 49ers, including $122.5 million guaranteed, by a wide margin. It will make him the highest-paid defensive player in history. pic.twitter.com/bRm6S9Eemf

— Adam Schefter (@AdamSchefter) September 6, 2023
Bosa's landmark contract also sets new standards for other critical financial aspects of NFL player deals. He secures the highest signing bonus ever seen in the realm of defensive players, a remarkable $50 million, along with the highest guaranteed money, a substantial $122.5 million.
Teammate Jake Brendel, who plays as the center for the 49ers, shared his exclusive thoughts with talkSPORT about Bosa's remarkable achievement. Brendel expressed his enthusiasm, stating,
"It's huge. Being able to have the best defensive player on your team is massive. We're really happy about it."
He continued,
"We're all excited for him, really happy for him. Honestly, it's a ton of money and whenever someone gets paid that much, it just resets the market."
Brendel underscored the positive impact of Bosa's contract on future players, emphasizing that it benefits every player coming after him.
Nick Bosa's extraordinary career in the NFL has been marked by excellence since his selection as the second overall pick by the 49ers in 2019. He earned the NFL Defensive Rookie of the Year title in 2019, and his exceptional performance in 2022 earned him the prestigious title of NFL Defensive Player of the Year.
BREAKING: 49ers, DE Nick Bosa agree to terms on 5-year, $170M contract extension. (via @RapSheet) pic.twitter.com/LT34AgbeOT

— NFL (@NFL) September 6, 2023
Bosa's negotiation for this groundbreaking contract had kept him away from the 49ers' training camp until the deal was finalized just days before their first game. The 49ers are set to face the Pittsburgh Steelers on Sunday, with live commentary available on talkSPORT 2. This historic contract not only recognizes Bosa's exceptional talent but also sets a new benchmark for the future of NFL player compensation.
(Visited 7 times, 1 visits today)