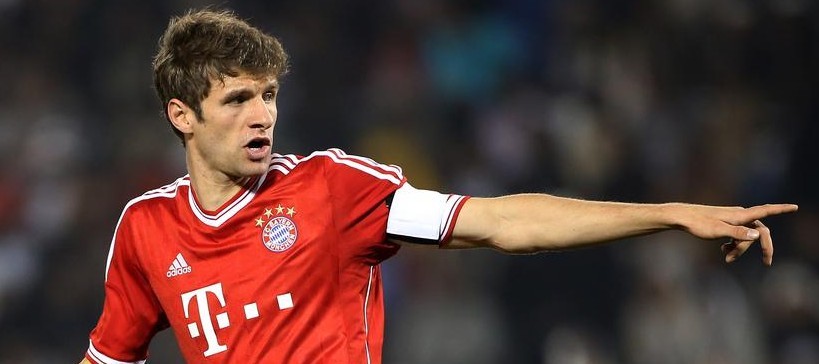 Thomas Muller hinted that signing a new contract with Bayern Munich may be close. Still, the forward explained that there is some paperwork that is still to be completed.
The 26-year-old player's contract with the No.1 team in the German Bundesliga is to expire in 2019. However, there have recently been some reports indicating that Muller is considering to prolong his stay at the club in case that the contract terms are improved in order to turn interest from some Premier League teams aside.
According to information, there is a verbal agreement between Bayern Munich and Thomas Muller on extending the player's contract until 2021. Still, the paperwork related to the extension needs to be done to put everything in order.
There have been some speculations that Muller has become a transfer target of Chelsea. This season has been one of the best in the forward's carrier especially taking into account the fact that he has scored a total of 13 goals in 14 matches into the national Bundesliga.
Apart from the 13 goals scored in the German championship matches, the player has also made two great assists to be added to his amazing performance over the season so far. He has also scored five times in the group-stage matches of the Champions League this season.
Now that Muller is to extend his stay at Bayern Munich, the Bundesliga No.1 is guaranteed the opportunity to take advantage of the striker's great qualities and excellent form for a few more years. The prolonged stay of the Bayern Munich goal-machine at the Allianz Arena is also expected to help the German club to maintain its positions in the national football championship.
Chelsea, however, was not the only English Premier League club that has been eyeing the forward. The name of Manchester United has also been long related with an eventual transfer of Muller. Unfortunately for the Red Devils, the forward has turned them down, causing them a massive transfer blow after the news he is to sign a new contract with Bayern Munich.
The team of Manchester United has been regularly related with targeting the German international. The club's head coach Louis van Gaal has been rumoured to be looking to bring the striker to Old Trafford for more than twelve months, but has now suffered a disappointment.
(Visited 106 times, 1 visits today)