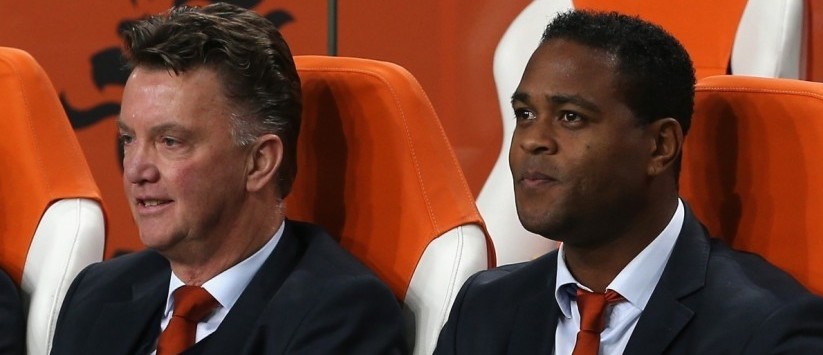 The 39-year-old Patrick Kluivert, who served as an assistant manager to Louis van Gaal for the Netherlands national football team in 2014, has commented on the recent performances of the Premier League' Manchester United. He also shared his belief that the club could improve under manager Louis van Gaal.
The rapid rise of Kluivert as one of the stars of Ajax back in 1995 pushed him not only to top as a player, but also towards a coaching career that included successful collaboration with Van Gaal. The then-37-year-old Kluivert was appointed as an assistant to the Netherlands' manager in the team's 2014 World Cup qualifying push.
The long association between the two men makes Kluivert one of the few people who are in the position to make assessment to the Dutch, especially now, at a time when Manchester United have been experiencing serious trouble in all competitions.
In an interview for a reputable sports media, Kluivert assessed Louis van Gaal as a manager of Manchester United, saying that if it was for someone else, maybe they would have been given the sack by now considering the poor performances of the club. The ex assistant coach of Van Gaal said that the name of the Dutch undoubtedly works for him, as David Moyes had not been given so much time to prove his qualities as a manager.
According to Kluivert, Manchester United still have some chances to enjoy a good season, and insisted that the Dutch is one of the best managers. He said that all Van Gaal needs is a little time and shared his hopes that his ex mentor would get it. Kluivert explained that the Premier League team could still turn their fortunes around and do a great job over the remaining weeks of the current campaign.
When asked to describe the key factor in Louis van Gaal's football philosophy, Kluivert said that structure is what really matters for the Dutchman. He also explained that Van Gaal's vision for game has influenced him a lot, too, as he found structure very important, too, at the time he spent at Ajax. He praised good organisation skills of his mentor and insisted that formation is what can make a difference in a game.
Kluivert also said that Van Gaal has always been convinced in his own ideas and is actually not a bad thing. According to his ex assistant coach, the boss of Manchester United is also adaptive to different situations and believes he could do a great job at the Premier League club.
(Visited 164 times, 1 visits today)