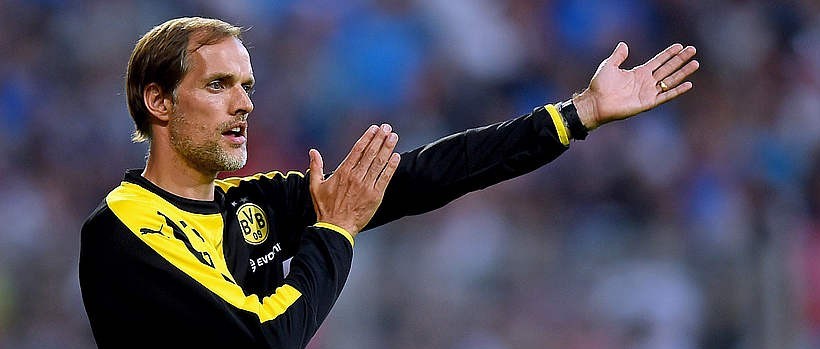 The manager of Borussia Dortmund – Thomas Tuchel – has revealed how disappointed he was with the planned boycott by his side's supporters at Stuttgart. The club's fans were not happy with ticket prices and have announced that they would stay away from the Mercedes-Benz-Arena for the first 20 minutes of the team's game against VfB Stuttgart as part of the DFB Pokal quarter-final that is to take place on Tuesday night.
However, Borussia Dortmund's head coach Tuchel has commented on their decision, saying that the demonstration could have a major impact on his men's performance in case they start the match against VfB Stuttgart at the stadium that has a capacity of 50,000 seats without any of their fans for the game's opening.
In his pre-match press conference on Monday, manager Tuchel said that his side had always needed the support of their fans from "the very first minute" of each game. He said that the club takes their supporters' presence as a sign of solidarity and feel they can rely on their fans when the latter are on the pitch. According to him, an eventual boycott of the match could influence on the squad's confidence.
Borussia Dortmund's head coach said that the entire team is well-aware of their fans' concerns, but asked for their full support on behalf of his men.
The truth is that the Mercedes-Benz-Arena has not been filled to its fullest capacity since the beginning the 2015/2016 campaign. This happened partly because Stuttgart faces some setbacks over the first half of the season, but also because of the fact that ticket prices' have increased.
Up to date, Borussia Dortmund supporters are charged €19.50 for standing tickets and €38.50 for the cheapest seats at Mercedes-Benz-Arena. As reported in the media, the cost of 25% of the tickets allocated to Borussia Dortmund come at the price of €70. In addition, the advance booking fees of €1 and postage fees of €6 per order are excluded from these prices. In addition, the DFB Pokal quarter-final game between Stuttgart and Borussia Dortmund has been classified in the highest price category.
In addition, the fans of Borussia Dortmund protested against the "abnormal" prices of the club's game against Hoffenheim in September 2015, after the latter set the ticket prices at €55.
The Kein Zwanni movement formed on the territory of Germany in 2010. Its members protest against the Bundesliga matches' prices whenever the latter surpass the amount of €20. The movement received support from several other clubs in the top football leagues in Germany, regardless of the fact that it was originally initiated by Borussia Dortmund's fans.
(Visited 69 times, 1 visits today)