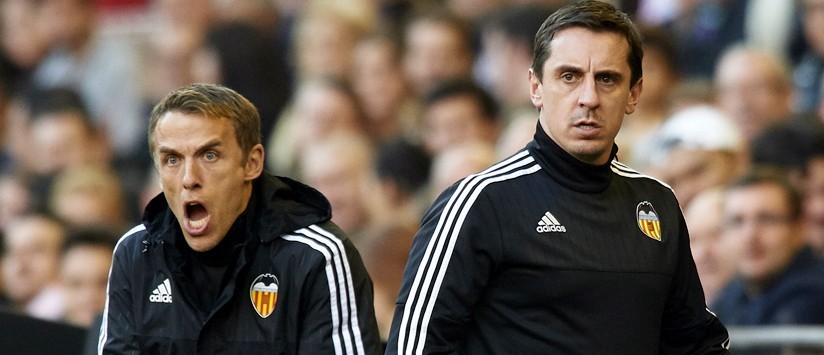 The position of Gary Neville as manager of Valencia has been recently put in danger due to the fact that the Spanish club who have been struggling in La Liga lately, have suffered another defeat.
Valencia's game against Real Betis on February 7th ended 1-0, leaving Neville's side only four points clear of La Liga's relegation zone. This increased the number of losses of the club under the English manager, who refused to quit even after the devastating 7-0 loss Valencia suffered from Barcelona in the two clubs Copa del Rey tie.
Neville was appointed at the managerial position at the Mestalla Stadium more than a couple of months ago and made a promise of improving the current form of the struggling team, but he has turned out unsuccessful so far. He has finally admitted that he is running out of time to turn fate in Valencia's favour, saying that "obituaries have already been written".
Despite the poor results in his side's last two league matches, these two performances had not deserved to end up with defeats in Neville's opinion. The now-coach of the club said he was well-aware of the consequences in the cases when a club do not get the desired results.
After the devastating loss at the 7-0 midweek game against Barcelona in the Copa del Rey competition, manager Neville had really nothing to say. But, after the Sunday's defeat from Real Betis, the coach commented that his side had not deserved such a defeat.
His side had several chances to net, with Alvaro Negredo missing a couple of chances over the second half of the match, while Shkodran Mustafi failed to score in injury time. So, after the goal of Real Betis' Ruben Castro, Valencia was condemned to another straight loss under the lead of Gary Neville.
According to Neville, the most difficult thing to explain was the fact that his side were better in comparison to other teams in the competition, and still, they are unsuccessful. The club's manager commented that in his opinion, it was all bad luck, and Valencia would simply stop missing their chances.
The manager refused to reveal any information about the conversations between him and the club's owners, saying that these talks are between him and them only. He also said he was aware that Valencia needs to turn their luck round quickly, and that it was hard for him to explain the defeat.
(Visited 108 times, 1 visits today)