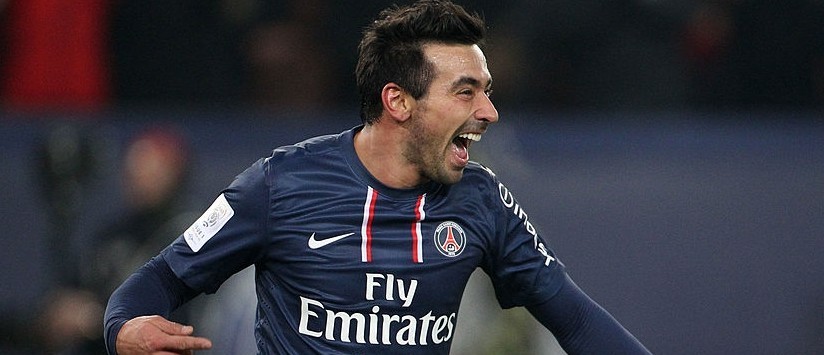 The head coach of Paris Saint-Germain Laurent Blanc has confirmed that the midfielder Ezequiel Lavezzi seems set to become the the next high-profile football player who moves to a Chinese team.
The current contract of the 30-year-old Lavezzi with the French grand is to expire in a few months. The midfielder's name was intensely linked with an eventual move to Premier League's Chelsea or Serie A's Inter Milan over the transfer window. However, it seems that the Argentinian have made another decision and is to accept the transfer offer of the Chinese Shanghai Shenhua.
Blanc's confession came after Ezequiel Lavezzi did not travel along with the rest of the squad to Stade Velodrome for their Ligue 1 game against Marseille. Paris Saint-Germain's manager revealed after the game that he could not guarantee that Lavezzi would decide to extend his contract with the French champions in order to stay there.
At the press conference after the 2-1 victory over Marseille, Laurent Blanc shared that more details could be provided not by him, but by the club. Still, the manager revealed that the midfielder had prepared to travel with his side to Marseille, but eventually decided to stay in Paris "at the last minute" in order to negotiate the terms of his departure from the French champions.
Blanc also said that the entire squad had anticipated that such a step from Lavezzi's side is possible, as they opened the door for the player over the January transfer window regardless of the fact that Paris Saint-Germain had not taken advantage of this fact.
According to some local media reports, Paris Saint-Germain could get as much as €10 million for the 30-year-old midfielder, in case that the Argentinian joins the ranks in the Chinese club. The winter transfer window in China is opened until February 26th, unlike the one in Europe, so head coach Laurent Blanc explained that the French grand could delay the midfielder's transfer until after the first leg of the club's Champions League last 16 match against Chelsea, which is scheduled for February 16th.
The team's manager also shared that the transfer issues are being currently negotiated with the representatives of Lavezzi. He admitted that Ligue 1 champions would have to put the matter under consideration provided the fact that they would not be given the opportunity to replace the player until the next transfer window. Blanc said that the final decision of the club would also be influenced by any eventual injuries and muscle problems of the rest of the players.
(Visited 157 times, 1 visits today)