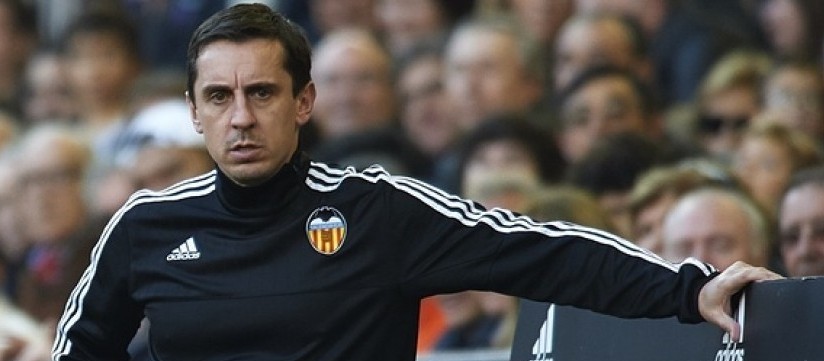 The former midfielder of Valencia David Albelda has commented on the managerial work of the Spanish team's now-head coach, saying that the team has not been improved at all under Gary Neville, but the latter's position as a coach is not put to risk due to his close relationship with Valencia's owner Peter Lim.
It is true that Valencia CF that is now 12th in La Liga have not won any of their first eight games in the competition under the news manager. Still, Neville has managed to guide the team into the semi-finals of Copa del Rey. The club is to face Barcelona in the semi-finals' first game on February 3rd.
This is exactly the reason why Albelda commented on the team's current situation, saying that the managerial position of Neville is not endangered regardless of his side's poor run of results. According to him, Valencia's owner is not likely to make another change, especially considering the fact that Neville and Lim have known each other due to their association with Salford City.
The midfielder also said that the club currently looks like Neville has never arrived, as neither the system, nor the players seem to be changed, and the results are even worse. Albelda shared that in his opinion, Valencia's results have been the club's worst ones ever. Unfortunately, he believes that manager Neville does not see the club's run of results as important enough and demonstrates a calm and relaxed manner.
Neville's tenure at Mestalla Stadium is to expire until the end of the season. The player shared that it would probably be a good decision for Valencia to bring in Rafael Benitez as a manager. Benitez could have been given the sack by Real Madrid in January, but the fact that he won two La Liga titles and also the UEFA Cup over his previous spell at Valencia should not be underestimated.
Albelda was part of Valencia in another difficult La Liga season for the club – the 2007/2008 campaign. In spite of all the setbacks, the team managed to beat Barcelona in the semi-finals at the time when it won the Copa del Rey under the lead of manager Ronal Koeman. Of course, it is not impossible for Valencia to repeat that luck, but Albelda commented that such an end would be difficult for the current squad to achieve.
The ex Spain international shared that regardless of the fact that the club's supporters still remain optimistic, it would be a great surprise in case that Valencia go through. He also explained that the squad should not face Barcelona with negative thinking, no matter that Valencia's opponent is currently able to easily beat them considering the qualitative players they have at their disposal.
(Visited 135 times, 1 visits today)