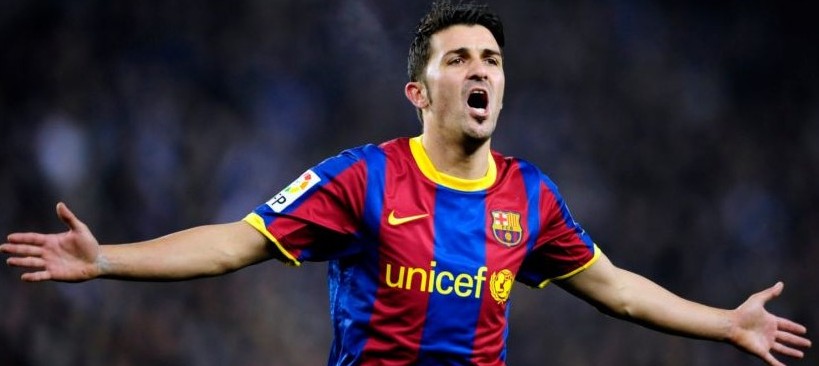 David Villa, who is currently part of New York City FC, has finally revealed the reason why he preferred to move to Atletico Madrid after leaving Barcelona in 2013. He shared that it was the decreasing amount of game time that forced make the choice of leaving Barca and joining Atletico.
Up to date, the 34-year-old forward plays for New York City FC in MLS. He, however, spent three great seasons at Barcelona from 2010 to 2013, playing side by side with some of the brightest football stars not only in Spain but also in the world, such as Lionel Messi.
The forward, also known as part of the Spain national football team, was considered as one of the best in Barca, having netted 48 goals in 119 appearances in the club's outfit. He also helped his side win eight trophies over the time he was at Nou Camp and became one of the most-loved players of the team so far.
However, in July 2013 the player left the then-champions of La Liga without any explanations in order to join the team of Atletico Madrid after signing a €5.1-million contract. This caused a lot of speculations at the time of Villa leaving Barcelona. He now lifted the curtain and shared that the reason for him to leave Barca to join another club was the fact he had felt as if he "had lost prominence".
According to David Villa's interview with a reputable sports media, the forward had been aimed at getting his prestige and eminence back by moving to another club regardless of the fact that Barcelona had wanted him to stay.
The forward has not denied the fact that playing with some of the greatest Barcelona stars such as Lionel Messi has been a great chance for him. However, the reduced amount of game time pushed him to the decision of leaving the Blaugrana squad. Villa revealed that he has always tried "to be realistic" both about his development and his skills, knew that losing game time is not working well when it comes to his technical capabilities.
David Villa shared that staying at Barcelona would be the easy way for him, especially considering the fact that the club is one of the best not only in Spain, but also in Europe. However, winning titles without getting enough game time was not a seduction for the forward who preferred being at the pitch instead of spending some of his best years on the bench.
(Visited 200 times, 1 visits today)