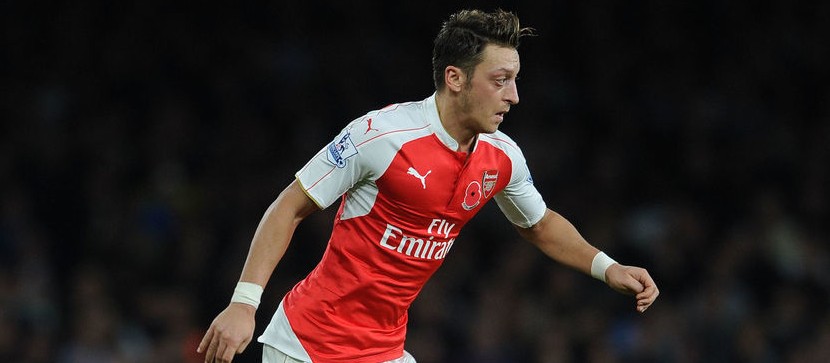 The playmaker of Arsenal – Mesut Ozil – explained that he is in no rush to renew his current contract with Arsenal, but still insisted that he feels well at the Premier League No.2 club.
The 27-year-old midfielder, who is the leader in the Premier League assist charts, already has an existing contract with the English team. The deal is to expire in June 2018, but Ozil shared that he prefers to wait until considering to begin talks related to extending his contract in the near future.
Ozil has also been rumoured to have already entered contract extension negotiations, but he denied these speculations, saying that there are still "two-and-a-half years" until the expiration date of his current contract.
The midfielder also explained that he is very happy in Arsenal up to date. Ozil also shared his belief that the decision to leave Real Madrid in order to join Arsenal turned out to be the right one. According to him, the only time when he had not feel well, had been the moment when he had been sidelined due to an injury.
Ozil said: "There has not been a single day apart from whenever I was Injured, that I did not feel great here."
The third season of the midfielder in the Premier League is considered as the most productive one he has ever had until now. With Chelsea and Manchester United, who have always been among the major favourities, have been struggling in the competition, Ozil may be on the course to win the Premier League title in case that Arsenal keep up with the good work and manage to maintain their overall form.
The team of the Gunners, on the other hand, has been reported to have been hoping to sign another long-term deal with the 27-year-old midfielder, which means literally extending his contract beyond 2018. The truth is that Mesut Ozil has been in superb form over the entire season and the club is to push their way for winning the competition.
So, tying Ozil down to a longer deal is expected to become a major priority of the No.2 Premier Club over the early part of the upcoming year, primarily due to the fact that the Gunners are looking forward to avoiding any uncertainty over their future in the country's league.
It is rumoured that Arsenal plans to offer a great increase on the £140,000 salary on a weekly basis that Ozil got after signing the contract in 2013.
(Visited 120 times, 1 visits today)