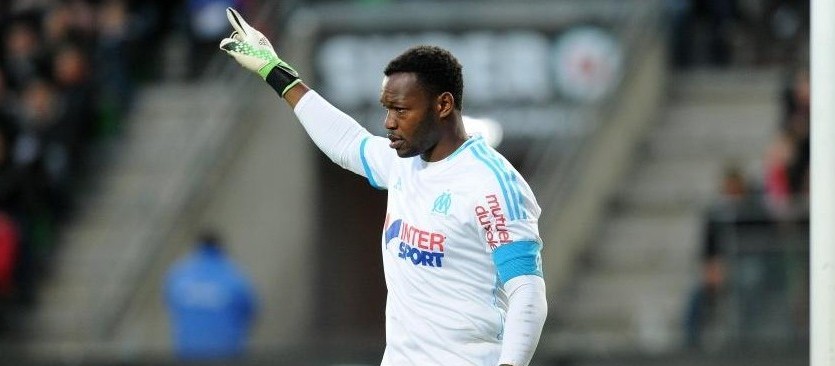 Marseille's Steve Mandanda may be considering the opportunity to move to the Premier League by signing a contract with Aston Villa over the January transfer window.
The Aston Villa manager Remi Grande has been reported to be planning to make an attempt towards the 30-year-old goalkeeper. He seems to be trying to sign Mandanda as well as the 24-year-old Wahbi Khazri, who is a forward of Bordeaux. According to various sources, the deal is planned by Aston Villa in order to bolster their squad and maintain their status in the Premier League.
Currently, the team of Aston Villa occupies the 20th position in the Premier League table, with seven points only from a total of 17 matches. The head coach of the club Garde, however, intends to make everything possible in order to convince the two players to move to his side by adding a get-out clause in their contracts that would provide them with the opportunity to leave Aston Villa in case that the club get relegated.
The goalkeeper of Marseille Mandanda has a contract with the French team that is to expire at the end of the 2015/2016 campaign. However, earlier in December, the media reported that his contract is to be automatically extended by a year in case that Marseille manages to qualify for the Champions League. Up to date, the French team is at 10th position and qualifying for the competition seems to be a long way.
In addition, the goalkeeper himself did not denied speculations that related him to a Premier League transfer when speaking after the Sunday's 1-1 draw of Marseille against Bordeaux.
Mandanda explained that he definitely intends to get back to his side after the end of the Christmas break. He shared that the club's trainings are to be restarted on December 27th. The player, however, refused to reveal if he plans to stay at Marseille at the end of the January transfer window.
Mandanda, who is also part of the French national football team as a second-choice goalkeeper, has been at the team of Marseille since 2007. Over the summer, the club underwent a hard period, as their title challenge collapsed over the second part of the 2014/2015 campaign. This was the time when Andre Ayew and Andre-Pierre Gignac made the decision of leaving the club.
Mandanda, on the other hand, preferred to stay hoping that his side could reach the top three once again. However, at the current stage of the competition such an outcome seems hardly possible, especially considering the fact that Marseille are 26 points behind the now-leaders Paris Saint-Germain.
(Visited 118 times, 1 visits today)