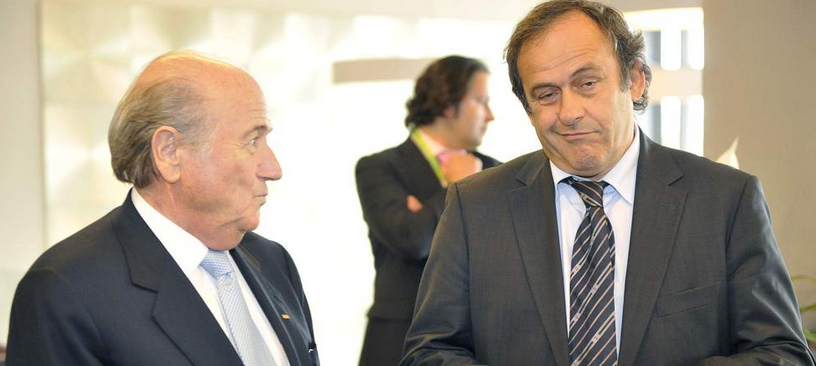 The president of FIFA Sepp Blatter and Michel Platini, who is the president of UEFA have been imposed an eight-year ban from any activities related to football as a result of an investigation related to ethics issues.
Both Blatter and Platini were found guilty on the allegations of a $2-million transfer from FIFA president to Platini that happened in 2011. The money transfer has been qualified as a "disloyal payment". According to the FIFA ethics committee statement, the infringement had been power abuse of both bosses' positions.
The ethics committee has found that "no legal basis" for the payment in February 2011 existed in the deal which was signed by Sepp and Platini on August 25th, 1999. According to the explanation of the two men, an "oral agreement" was reached between them on the matters of payment, which have been found as convincing enough.
In addition, the ethics committee found that both men were in "a conflict of interest", while the actions of Blatter did not provide enough proof of his commitment to an ethical attitude. Platini, on the other hand, was found to have not managed to act with "credibility and integrity" in correspondence with his position, not to mention that he acted as he was unaware how important his duties had been.
Still, "not sufficient evidence" was found by the committee in order for it to describe the payment as a bribe, but Sepp Blater and Michel Platini were both found guilty of demonstrating an "abusive execution" of their managerial positions.
Apart from the suspension, both men have also been imposed fines of $50,000 and $80,000 respectively. The bosses of FIFA and UEFA are suspended from taking part in any activities related to football, but they are still allowed to attend matches in case they purchase tickets in a private capacity.
Still, both men continue to deny doing anything wrong and shared their intentions to appeal the decision to the Court of Arbitration for Sport.
After hearing the ethics committee's decision, Blater shared he felt betrayed for his 40 years of service in the organisation. He, however, said he intended to fight for himself and for FIFA. Michel Platini, on the other hand, commented on the decision saying it was a "masquerade" that intended to throw mud at his name.
Sepp Blater, who has been a boss of FIFA since 1998, had officially announced his intentions of quitting the position. The presidential elections are supposed to be in February 2016. Platini, on the other hand, was rumoured to become a leader of the governing body in the football world.
(Visited 74 times, 1 visits today)